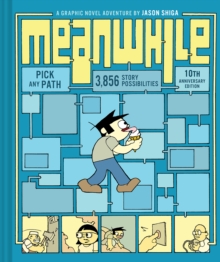 Meanwhile : Pick Any Path. 3,856 Story Possibilities
Hardback
Description
In this completely original graphic novel take on a 'choose-your-own-adventure,' a boy stumbles upon the lab of a mad scientist who asks him to choose between testing a mind-reading device, a time machine, and a doomsday machine.
Using an ingenious system of tubes and tabs, readers can decide what to explore in this completely engrossing experiment in storytelling.
Sometimes the page reads right to left, sometimes up and down, and sometimes jumps from beginning to end.
It's sure to appeal to kids - and comics collectors - eager for an interactive, funny read.
Information
Format: Hardback
Pages: 80 pages, full-colour illustrations throughout
Publisher: Abrams
Publication Date: 01/03/2010
Category: Adventure
ISBN: 9780810984233
Free Home Delivery
on all orders
Pick up orders
from local bookshops
Reviews
Showing 1 - 5 of 16 reviews.
Previous | Next
Review by MeganMcBrown
16/06/2015
This one is a pretty cool concept because it's a combo of a Choose-Your-Own-Adventure and graphic novel. I think kids enjoy reading the choose your own adventure like books because they can read the book multiple times and have a different storyline each time. However, the art in the book isn't anything special. The panels of comic in the story are hard to follow, you have to follow a path of lines to pick the tab you turn to for the next segment of the story. I had a hard time the second page I turned to. You follow the tube that is the color you picked at boxes that split off, but having to follow panels up and down and around a page, with multiple storylines you can pick on each page is pretty confusing. I pretty much gave up on this book because it didn't seem worth the effort---even if following the storyline was simple, the story wasn't worth reading.This book would be fine for any age in the 4th-8th grade range. It's probably geared more toward boys.
Review by WSRobitaille
16/06/2015
This children's graphic novel has been formatted so that you can choose how you want the story to unfold and may be confusing for younger readers or people used to reading graphic novels in the traditional manner. As explained by the introduction page, you follow the story by following a series of connector pipes that lead you in maze like directions from frame to frame and from page to page. Although the cover boasts 3856 story possibilities, at 80 pages, there is a lot of overlapping in the possible story outcomes. Once the logistics of reading it are out of the way, the stories that unfold are amusing and can range into areas of time travel, memory transfer and doomsday machines. I found the story lines and illustrations to be simple, funny and fairly engaging, and the fact that you can read this book several different times and come away with different outcomes adds to the appeal.
Review by llpollac
16/06/2015
With the question 'Chocolate or vanilla?' the reader of 'Meanwhile' embarks on a graphic-novel/choose-your-own-adventure crossover where a series of choices can lead to 3856 possible stories. The art and text are arranged in a non-linear fashion, linked by a series of tubes that connect various parts of the book in all directions, with different parts of different stories presented on the same page and tabs along the edge of each page to assist with finding the leaf a tube leaving the page is headed to. The individual stories are straightforward and straight out of b-movies and comic books, but the branching of the possibilities can be mind-blowing. It is also possible for the reader to become caught in a loop of story, which could be frustrating to some readers. The art is done in an appealing comic style, but the directionality of the connecting tubes is in some cases confusing, and many people will need to follow the tubes with a finger to keep their place. This is not a book to introduce graphic novels, but for experienced readers of the format, 'Meanwhile' will be an engaging read which pushes the limit of what can be done with the printed page. This book would be a great choice for middle school boys, or anyone who identifies as a geek and cares more about how the story is told than the story itself.
Review by allaboutliteracy
16/06/2015
A new kind of choose your own adventure book. What kind of ice cream do you want today? A very creative and intricate aggregate of storylines. It is a little confusing and requires a bit of concentration with the navigation the first time, but can provide hours of fun guiding your own story and starting a new one.
Review by Shiko99
16/06/2015
Remember those classic comics where you read left-to-right or right-to-left depending where you live on the globe? Well, in Jason Shiga's "Meanwhile", he puts a whole new twist to the traditional word "comic". In this book, you'll be reading up and down, left to right and even off the pages to another! Many secret codes may be found, but cheating your way through is never a way to discover its telltale secrets! Your goal is to find the best possible ending; technically, this is at least 15 books in one book! The story is about a young boy who you play as in this world; you get to make his life changing decisions. The first one comes up very quickly, where you meet this crossroad of tubes you can follow; you either pick the left road, or the right. Your decisions can lead to a neverending spiral, a bad or good ending or even lead you to kill him. The decision is yours. Although some pages look similar, it's not a photocopy error. This makes the reader quite confused a times, and may become frustrating. But, if you can decipher the storyline and at least follow it, Jason Shiga will give you an interesting comic read that will last you at least a week! This book is best for readers who enjoy "Choose your own Adventure" Books, and comic-lovers; if you are one of those, pick up this book right now and you won't be disappointed.