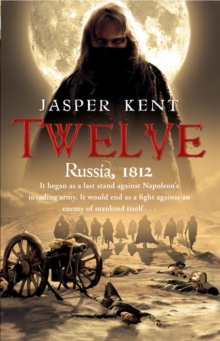 Description
On 12th June 1812, Napoleon's Grande Armee forded the River Niemen and crossed the Rubicon - its invasion of Russia had begun.
Charged with delaying the enemy's inexorable march on Moscow, a group of Russian officers summon the help of the oprichniki, a band of mercenaries from the outermost fringes of Christian Europe.
As rumours of a plague travelling west from the Black Sea reach the Russians, the Oprichniki - twelve in number - arrive.
Preferring to work alone, and at night, they prove brutally, shockingly effective against the French.
But one amongst the Russians, Captain Aleksei Ivanovich Danilov, is unnerved by the mercenaries' ruthlessness...and as he comes to understand the true, horrific nature of these strangers, he wonders at the nightmare they've unleashed in their midst...
Information
Format: Paperback
Pages: 544 pages
Publisher: Transworld Publishers Ltd
Publication Date: 01/01/2010
Category: Horror & ghost stories
ISBN: 9780553819588
Free Home Delivery
on all orders
Pick up orders
from local bookshops
Reviews
Showing 1 - 2 of 2 reviews.
Review by gaskella
16/06/2015
I have read War and Peace, so I know a little bit about Napoleon v. General Kutozsov, the Battle of Borodino and Napoleon's march on Moscow, and I'm sure we all know that Napoleon had to retreat and Tchaikovsky wrote the 1812 overture to commemorate it.This military setting forms the backbone of this novel as we follow the exploits of Captain Alexei Ivanovich Danilov and his small band of officer comrades. They work as a kind of elite force, spying on the French and using guerilla tactics to keep one step ahead. It's hard work though – Alexei lost two fingers when he was captured in a previous campaign. It's not going well for the Russians, and Dmitry, nominally in charge of Alexei's group, has taken matters into his own hands. He has engaged a band of mercenaries whom he met in the Balkans to help. He explains that they're like the monks the Tsar once had as a bodyguard – the 'Oprichniki'. The Balkans will act as a guerilla force to pick off a few French soldiers here and there and generally sow fear amongst them. Dmitry explains … " 'They enjoy their work. Like any army, they live off the vanquished.' None of us quite followed Dmitry's meaning. 'The spoils of war. Armies live off the gold and the food and whatever other plunder they take from the enemy.''I'm not sure they'll find enough gold with the French army to make their journey worthwhile,' I said.'There are rewards other than gold,' said Dmitry with an uncharacteristic lack of materialism. 'They are experts at taking what the rest of us would ignore.' "They are a scary band of chaps, and they certainly go to work with relish – but then they would be, the Oprichniki are vampires. It's obvious from the start to us the reader what they are, but it takes Alexei some time to cotton on, and then he becomes a man with a rather different mission.Meanwhile, in between bouts of spying on the French and haring around the place trying to catch up with his fellow officers, Alexei hangs around Moscow, where he acquires a mistress – a posh prostitute called Domnikiia. Alexei's wife and young son remain in Petersburg – he feels little guilt though, and continued encounters with the Oprichniki give him no time to consider his position.Then, of course, there's a third element after the French and vampires to do battle with – the weather. It's winter, and a foodless, occupied Moscow is no place to hang out for humans – the vampires do OK though!At the beginning of this book, I had wondered whether the military setting would overshadow the rest of the story, which was something I found slightly with The Officer's Prey - a Napoleonic military detective story by Armand Cabasson I read a couple of years ago. Twelve though, with its domestic sections in Moscow, came alive in a less soldierly fashion.Although this book was rather long at 539 pages, and took a little while to get into, I did enjoy it. It does have a high gore and violence count, but these vampires are the real thing – proper nasty blood-drinking, flesh-rending, sunshine hating, superhuman monsters from the borders of Europe and Asia. Twelve in the first in a planned quintet of novels – would I read another? Next vampire season probably!
Review by arkgirl1
16/06/2015
Twelve is an amalgam of historical novel set in 1812 Russia as Napoleon's army advances and Vampire tale ... but these vampires are nothing like the Twilight/Vampire Diaries novels vampires!! My initial problem was that the build up of the story was very slow and we are 200 pages into the book before it really takes off but Kent does provide an accomplished, well written and dark tale with some interesting twists. The story is told by Captain Aleksei Ivanovich Danilov, an intelligence officer in the Russian army, who has been working with a small team in espionage activities then one of the team, Dimtry, introduces them to a group of mercenaries from Wallachia and this is when the tone of the tale takes a new direction.The mercenaries have been named after the 12 disciples and most are portrayed as little more than animals with real brutality in the way they dispatch the French army but the only one we really get to know is Iuda/Judas. He is a suave, charming mercenary, in comparison to the others, and his interplay with Alexsei is a very enjoyable part of the story.Alexsei battles vampires but he also battles his own conscience as, despite being a married man and father, he becomes more and more involved with Domnikiia, a Moscow prostitue, and thus he develops into a flawed and rounded character.The historical setting is convincingly portrayed and the devastation of Moscow during the French occupation was a brilliant backdrop for the terrors inflicted by the Voordalak/vampires. It is definitely worth persevering with this book as the second half was excellent and I will definitely try the next books in the series ... although the fact that there will be 5 books and the next is longer is a little bit daunting!!