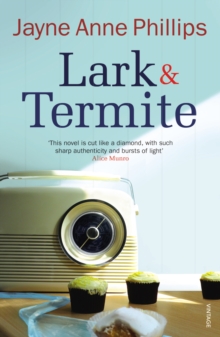 Lark and Termite
Paperback
Description
At the centre of this unforgettable novel are two chidlren: Lark and her brother, Termite, who is unable to walk or talk but is deeply loved by his family.
The two are raised by their aunt Nonie in place of Lola, their mother, and Termite's father, Corporal Robert Leavitt, who is caught up in the chaos of the Korean War.
As the story shifts through time from West Virginia to Korea the mystery of Lola and Nonie's relationship slowly unravels, as does the story of Lark's hopes for herself and Termite, and her own desire for the personal history she has been denied.
The result is a rich and rewarding novel about the power of loss and love, the echoing ramifications of war, family secrets, dreams and ghosts, and the unseen, almost magical bonds that unite and sustain us.
Information
Format: Paperback
Pages: 272 pages
Publisher: Vintage Publishing
Publication Date: 01/02/2010
ISBN: 9780099288749
Free Home Delivery
on all orders
Pick up orders
from local bookshops
Reviews
Showing 1 - 2 of 2 reviews.
Review by valerie2
16/06/2015
As other reviewers have noted, I found this a fairly difficult book to get into and a rather slow going read. Narrated by a number of different voices, "Lark and Termite" gradually reveals the cicumstances as to why these two children - one severely disabled - come to be living with their Aunt Nonie, rather than their natural mother Lola. Overall, the characters did not ring particularly true for me, and I just didn't feel the "heart" within the story - and for a book predominantly about relationships, and the devastating events that can sometimes shape our lives, you need to need to be able to feel the heart. While I would try another book by this author I won't be recommending Lark and Termite to others - it was just OK.
Review by Opinionated
16/06/2015
I just thought I'd add a positive review in the light of all the negative ones below. I'd read excerpts from this book in various editions of Granta, and its clear Ms Philips has worked on it for a long time. I found it very engaging, loved the voice of Lark and her love for and understanding of her brother, the only real connection to her mother who she, and we, only really glimpse in shadows, through the prejudiced view of others. I also loved the voice of Nonie and her determination to hold her bitsy family together. The book reminded me of the French film "Life is a long quiet river" - although without the humour. Its true that nothing much happens, but in most lives nothing much does after all. Its tone that matters here, tone and characterisation and I found it deeply compelling.The bits that didn't quite gel where the scenes in Korea. I didn't know about the No Gun Ri massacre, and there is certainly a mighty work of fiction to be written about this and other elements of the Korean war. But these episodes felt unconnected to the main storyline and didn't seem to really inform the fate of any of the other characters in anything other than a very general sense.But generally, really enjoyed it. Read Jayne Anne Phillips short story collections "Black Tickets" and "Machine Dreams". Also very very good