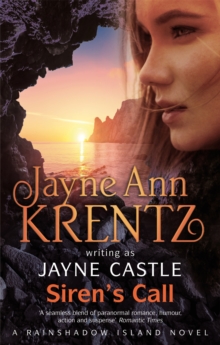 Siren's Call
Paperback
Part of the Harmony series
Description
In the mysterious world of Harmony, there are places filled with unexplored marvels.
But Rainshadow Island isn't about to give up its secrets . . . In the alien catacombs of Rainshadow, there are creatures whose compelling songs lure the unwary to their death.
That's why Rafe Coppersmith, hired to clear out the catacombs for exploration, needs a music talent.
He knows the perfect one, but she probably doesn't want anything do with him . . . Ella Morgan had once fallen hard and fast for Rafe, but then he disappeared for months and he's not about to tell her why.
Ella, too, has secrets that only her dust bunny knows.
She's not just a music talent, she's a Siren: a paranormal singer capable of singing men to sleep - or to their deaths.
But once on Rainshadow, Rafe and Ella will learn that surrendering to passion doesn't come without risks - and fighting fire with fire only adds to the flame . . . Praise for Jayne Castle:'A suspenseful tale complete with murder, mayhem, and escalating danger . . . best dust bunny EVER.' -Caffeinated Book Reviewer'A riveting plot filled with plenty of sexy twists and dangerous turns.' - Booklist
Information
Format: Paperback
Pages: 336 pages
Publisher: Little, Brown Book Group
Publication Date: 28/07/2015
ISBN: 9780349409481
Free Home Delivery
on all orders
Pick up orders
from local bookshops
Reviews
Showing 1 - 1 of 1 reviews.
Review by wyvernfriend
27/08/2015
I know that there are silly parts of this but the story kept me reading and I enjoyed the characters, including Lorelei the Dust Bunny. Ella Morgan is a Siren, her voice has psychic power behind it and when she is summoned by a dust bunny to help, she has to use that power, and Rafe Coppersmith enters her life, they have to part but he promises to get back in contact, when he doesn't she's annoyed and when they meet again there have been changes, things aren't as they were and they have to adapt.He has a job for her with the dinosaurs they've found in the previous book on Rainshadow, the catacombs have to be cleared out for exploration and he thinks she's the perfect person to help him with this, he's nervous about the changes due to earlier adventures, but feels that she should be part of his life.I enjoyed it, nothing earth-shattering but entertaining.