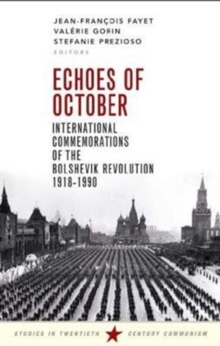 Echoes of October : International Commemorations of the Bolshevik Revolution 1918-1990
Paperback / softback
Description
From the first anniversary of the revolution in 1918, 7 November was the day of celebrations that marked the founding of the Soviet regime.
Through marches, speeches, military parades, carnivals, and the inaugurations of public monuments and plaques, it was on this key date that the peoples and territories of the USSR were brought together in commemoration of the October socialist revolution.
Domestically, the object was to foster unity, provide legitimacy, and facilitate popular mobilisations.
Commemorative events were also held outside the USSR, and these practices upheld the regime's international prestige, especially when it presented itself as a model for world revolution. This volume brings together a range of international authors exploring those commemorations from the perspective of the 2017 centenary.
Contributors address the international echoes of the celebrations by sketching out a map of the diverse territories commemorating October, including the state spaces of the USSR and other socialist regimes; the associational spaces of the communist Western micro-societies; and the symbolic spaces of newspapers, colours, songs and the communists' revolutionary calendar.
The collection is therefore valuable for readers interested in Soviet political rituals and their representations and new appropriations through different spaces, from the interwar period to the Cold War.
It, as part of the Studies in Twentieth Century Communism series, offers a unique and vital perspective on the history of the twentieth century.
Free Home Delivery
on all orders
Pick up orders
from local bookshops