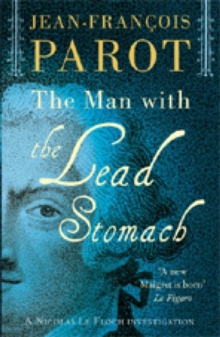 The Man with the Lead Stomach
Paperback
Description
October 1761 finds the newly-promoted Commissioner Le Floch on duty at a Royal performance of Rameau's latest work.
Events take a dramatic turn and Nicolas is soon embarked on his second major investigation when the body of a prominent courtier's son is found.
The initial evidence points to suicide, but Le Floch's instincts tell him he is dealing with murder of the most gruesome kind.
Information
Format: Paperback
Pages: 404 pages
Publisher: Gallic Books
Publication Date: 01/01/2009
Category: Historical mysteries
ISBN: 9781906040123
Free Home Delivery
on all orders
Pick up orders
from local bookshops
Reviews
Showing 1 - 1 of 1 reviews.
Review by AdonisGuilfoyle
16/06/2015
The second Nicolas Le Floch novel, set in Paris during Louis XV's reign. Nicolas, now Police Commissioner at the Chatelet prison, is called to investigate the staged suicide of a nobleman's son, but of course the truth is far more complicated and dangerous than that. The young Vicomte de Ruissec, who was 'made to swallow molten lead, which burnt up his insides, made his head shrink and destroyed his entrails' (and I quote directly from chapter four, because this description in all its ancien-CSI detail, is what finally grabbed my attention!), was actually caught up in two separate but equally dangerous conspiracies, and only Nicolas is skilful and determined enough to unravel the facts.My personal rule with detective series is that the sleuth must always be interesting or attractive enough to carry the story if the mystery falls short, but with Parot's eighteenth century crime novels, Paris is the main protagonist. I love his descriptions of life in the capital city, and the splendour of Versailles, because his sense of history as a living, breathing personality is so vividly drawn, from crowded bridges over the Seine, its waters polluted by blood and offal from butchers' shops and used to dispose of bodies, to the dangers of the streets, where noblemen's whips strike out indiscriminately and people run the risk of being trampled to death or mown down. Parot also populates this colourful background with figures from the past, from Madame de Pompadour (a favourite of mine), to the real life Lieutenant General of Police, Antoine de Sartine. Fascinating and informative!Nicolas himself is still too much of an everyman detective to really stand out for me - he's young, of noble birth but bourgeois upbringing, observant but impulsive, proud and hot-headed, respected or protected by his elders, and of course, attractive to the ladies. He does make mistakes, but never really makes a wrong move. Nicolas reminds me of Archie Goodwin in Rex Stout's Nero Wolfe mysteries - he's even surrounded by gourmands, who love to describe the perfect way to cook lamb giblets or eels!Already in love with Paris, Commissionaire Le Floch is also growing on me, but I shall keep buying Parot's books for the unique time-travelogue experience he has perfected!
Also in the Nicolas Le Floch Investigation series