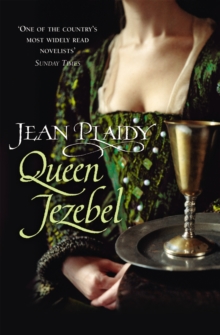 Queen Jezebel : (Medici Trilogy)
Paperback
Description
The ageing Catherine de' Medici has arranged the marriage of her beautiful Catholic daughter Margot to the uncouth Huguenot King Henry of Navarre.
Margot, still desperately in love with Henry de Guise, refuses to utter her vows.
But even Catherine is unable to anticipate the carnage that this unholy union is to bring about ...In the midst of an August heatwave, tensions run high: the marriage hasn't brough peace between Catholics and Huguenots. Realising her weakening power over her sickly son, King Charles, Catherine persuades him of a plot against his life. Mad with fear, Charles agrees to a massacre that will rid France of its 'pestilential Huguenots for ever'. And so the carnival of butchery begins, marking years of terror and upheaval that will end in the demise of kings, and finally expose Catherine's lifetime of depraved scheming...
Information
Format: Paperback
Pages: 480 pages
Publisher: Cornerstone
Publication Date: 01/07/2006
Category: Historical fiction
ISBN: 9780099493198
Free Home Delivery
on all orders
Pick up orders
from local bookshops
Reviews
Showing 1 - 3 of 3 reviews.
Review by AdonisGuilfoyle
16/06/2015
Last in the Catherine de' Medici trilogy. After the St. Bartholomew's Day massacre of the Huguenots, the Serpent Queen is fighting a losing battle to keep her weak and mad children on the throne of France. Daughter Margot, married to Henry of Navarre, would have been a queen after Catherine's own heart, but France was forced to live through the reign of her crazy son and his cross-dressing brother first. Luckily, all the Valois men were of poor stock and died prematurely (of natural and unnatural means). Added to that the persecution of the Huguenots by the Catholics, the fighting over the throne between aristocratic families, and the influence of Spain and England - it's surprising that France waited another two hundred years for a revolution!This is a slow novel because the history is well-known and the politics too involved. Plaidy's Catherine becomes a rather pathetic figure once her rebellious children start to cut her out of the loop, and her sons are presented almost as imbeciles. Only Navarre and Margot are worth reading about, and their story is told properly in 'Evergreen Gallant'.Factually interesting, but a plodding account.
Review by LibraryCin
16/06/2015
3.5 starsThis is the third book in Jean Plaidy's series on Catherine de Medici. At the start of this one, her third son, Charles is the King of France, and her daughter Margot is getting married to Henry, the King of Navarre, against her wishes.I'm not sure I liked this one as much as the first two, but it got more interesting as I got further into it. It's also difficult with these royal families and keeping straight who everyone is (and I tend to go months or years between books in a series, so I need some kind of reminder). However, in the end, I still enjoyed it.
Review by PhilSyphe
27/08/2015
Like Book Two in the Catherine de Medici trilogy, this final instalment features many more characters and follows events in their lives. Thus, in a sense it's better to have more variation, but I still prefer Book One – "Madame Serpent" – for its more limited yet more engrossing themes. Catherine is even less to the fore in this third novel than in the previous one. She's more like the central character, rather than the main one. Catherine only cares for her third-oldest son, who becomes France's Henry III. The rest of her children are scared of their mother – a mother who'd readily see them dead if it meant advancement for her favourite son, though he strikes me as a complete and utter waste of space. It's hard to feel any warmth for someone of Catherine's nature, but she nevertheless is the best-drawn character of the book. She, like the real Catherine de Medici, is a fascinating woman. Much of her reputation is based on rumours and on the reputation that sixteenth-century Italians had for poisoning those who stood in their way. Even so, there's evidence enough to show she was no saint.My favourite character is Margot, Catherine's daughter who married Henry of Navarre, France's future Henry IV, founder of the Bourbon monarchy.Although I like the first in the trilogy best, while also preferring the second instalment above this third one, "Queen Jezebel" still proved to be an entertaining read.
Also in the Medici Trilogy series | View all