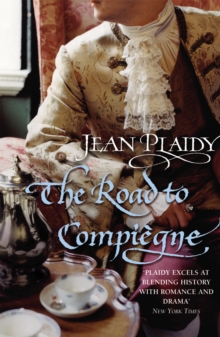 The Road to Compiegne : (French Revolution)
Paperback
Description
No longer the well-beloved, Louis XV is becoming ever more unpopular - the huge expense of his court and decades of costly warfare having taken their toll.
As the discontent grows, Louis seeks refuge in his extravagances and his mistress, the powerful Marquise de Pompadour.
Suspicions, plots and rivalry are rife as Louis's daughters and lovers jostle for his attention and their own standing at Court.
Ignoring the unrest in Paris, Louis continues to indulge in frivolities.
But how long will Paris stay silent when the death of the Marquise de Pompadour leads to yet another mistress influencing the King?
Information
Format: Paperback
Pages: 400 pages
Publisher: Cornerstone
Publication Date: 04/10/2007
Category: Historical fiction
ISBN: 9780099493372
Free Home Delivery
on all orders
Pick up orders
from local bookshops
Reviews
Showing 1 - 2 of 2 reviews.
Review by AdonisGuilfoyle
16/06/2015
Jean Plaidy has a curious style - three parts history lesson, with a soupcon of romance. The second book in her French Revolution series covers the many mistresses and death of Louis XV, suggesting 'le deluge' to follow with his grandson - the Revolution proper. Twenty plus years are lightly skimmed over, covering the deaths of Madame Pompadour and the first Dauphin and the rise to glory of Louis' last mistress, Madame du Barry; a concise introduction to that chapter of history, padded with sharp dialogue and an impartial view of the lax morals of the day, lacking in most modern historical fiction (few authors would dare to admit, without censure, that Louis XV stocked his brothel with young girls), but the telling lacks drama and direction. Events and personalities are condensed like the film version of a novel, and there is no real meat to the story - but it serves as an accessible taste of French history. Plaidy's account of the life of Louis XVI should be worth a read, as the cast and plot are already familiar.
Review by PhilSyphe
27/08/2015
I read this after enjoying the first book in the series, plus I'm interested in France's Bourbon kings, Madame de Pompadour, and I 'm a fan of the author.I think that Jean Plaidy did a good job bringing eighteenth-century France to life. Her portrayal of Louis XV is excellent. I found myself liking Louis whilst having little respect for his carefree ways. He always puts his own pleasures before the need of his subjects.It's interesting to observe how Louis's coldness towards the French people who once loved him, and the amount of money he taxes them to pay for fruitless wars, or to indulge his passion for architecture, all leads to his loss of popularity. More to the point, his carefree attitude points the way to the French Revolution a few decades after his death.Louis was not like other rulers who did diabolical things to his people or to other nations. His main faults lied in what he did *not* do, i.e. spend less money on his himself and focus on saving his subjects from starving. In short, he wasn't a despotic king but a disinterested one.Most appealing to me in this novel is Louis's unique relationship with Madame de Pompadour. I've previously read a biography about this successful, beautiful woman, discovering that I liked her very much. I'm impressed with the author's depiction of the gifted lady. I'm not suggesting that Madame de Pompadour was without her faults, as she did nothing to stem Louis's overspending, but I don't think she was vindictive towards the poor but was rather out of touch with the true state of things.The people in return showed nothing but contempt for her, thus it strikes me that a lack of communication was a big problem. Madame de Pompadour also had her hands full maintaining her position in the king's life. She had many enemies at Court, most of whom were jealous of the power she wielded, therefore much of her time was consumed with fighting battles with enemies she knew and enemies she didn't, all of whom wanted her ousted.Adelaide, one of Louis's daughters, is one of the most interesting characters. She's clever yet also slightly mad. I like Madame du Barry too, though Louis XV and Madame de Pompadour are the stand-out characters for me. Overall this is a good read though I would've enjoyed it more had it been a little more spicy or confrontational at times. I also feel that the author should've cut back on certain info. It's as though she wanted to relay every notable historical event, which wasn't necessary for this story, as at times it detracts from the main narrative and the most important characters' lives.
Also in the French Revolution series | View all