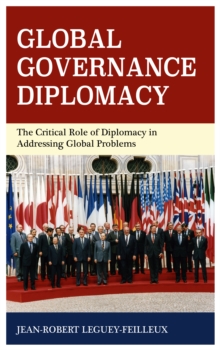 Global Governance Diplomacy : The Critical Role of Diplomacy in Addressing Global Problems
Hardback
Description
Nations, even the most powerful, cannot cope by themselves with many of the problems confronting them.
Collective efforts are needed, and diplomacy is a key element in this process.
This text examines how diplomacy serves global governance, how the diverse international actors use it, and what it accomplishes.
The focus is on diplomatic practice, looking at the diverse methods used by the international actors involved and how they contribute to its effectiveness.
The first section examines how various levels of international actors practice diplomacy.
Nation states are still key actors and they use many methods in embassies, international conferences, international organizations, summit meetings, and more.
International organizations are both a forum for multilateral diplomacy and a major set of international actors still growing in significance for global governance diplomacy.
In addition, a multiplicity of regional or limited membership institutions play a role in global governance.
At the transnational level, there is the increasing role of civil society institutions and nongovernmental organizations in international affairs.
This is where a new kind of international actors is found, unevenly contributing to global governance diplomacy beyond the control of public authorities.
The second section explores the functional level, looking at how diplomacy operates in five areas of global governance: peace and security, economic governance, social issues, human rights, and environmental protection.
Each of these presents different challenges for global governance diplomacy and requires the development of different diplomatic strategies and new techniques.
Some of the issues are more amenable to global governance while others, such as the eradication of global poverty remain fairly intractable.
The text extends beyond the usual description of diplomatic apparatus and dynamics to explore "diplomacy at work" in specific, current policy areas that are very relevant to the present debates in international politics.
Information
Format: Hardback
Pages: 280 pages
Publisher: Rowman & Littlefield
Publication Date: 08/03/2017
Category: Globalization
ISBN: 9781442276574
Other Formats
Paperback / softback from £25.99
EPUB from £63.00
Also by Jean-Robert Leguey-Feilleux