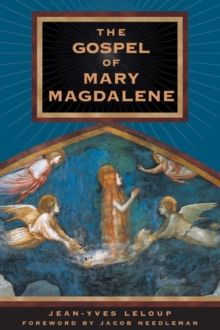 The Gospel of Mary Magdalene
Paperback
Description
Perhaps no figure in biblical scholarship has been the subject of more controversy and debate than Mary Magdalene.
Also known as Miriam of Magdala, Mary Magdalene was considered by the apostle John to be the founder of Christianity because she was the first witness to the Resurrection.
In most theological studies she has been depicted as a reformed prostitute, the redeemed sinner who exemplifies Christ's mercy.
Today's reader can ponder her role in the gospels of Philip, Thomas, Peter, and Bartholomew--the collection of what have come to be known as the Gnostic gospels rejected by the early Christian church.
Mary's own gospel is among these, but until now it has remained unknown to the public at large. Orthodox theologian Jean-Yves Leloup's translation of the Gospel of Mary from the Coptic and his thorough and profound commentary on this text are presented here for the first time in English.
The gospel text and the spiritual exegesis of Leloup together reveal unique teachings that emphasize the eminence of the divine feminine and an abiding love of nature over the dualistic and ascetic interpretations of Christianity presented elsewhere. What emerges from this important source text and commentary is a renewal of the sacred feminine in the Western spiritual tradition and a new vision for Christian thought and faith throughout the world.
Information
Format: Paperback
Pages: 192 pages
Publisher: Inner Traditions Bear and Company
Publication Date: 01/02/2002
Category: Philosophy
ISBN: 9780892819119
Free Home Delivery
on all orders
Pick up orders
from local bookshops
Reviews
Showing 1 - 2 of 2 reviews.
Review by mzzkitee
16/06/2015
I liked this book because of the history but it wasn't what I expected and I thought it was lacking something. it left me unsatisfied.
Review by madamejeanie
16/06/2015
Let me start off by saying that my discovery of the texts found at NagHammadi and the Dead Sea Scrolls have changed the way I look at a lot ofthings, including but certainly not limited to, religion and worldhistory.Back in the third and fourth centuries, when the Christian Church was init's infancy and still finding it's way among all the different sectsand offshoots, monumental changes were brought forth. After Constantinemarried a Christian woman and learned of the massive numbers of "closetChristians" there were throughout the world, he had his big "conversionexperience. The fact that utilizing those massive numbers of Christianwarriors would almost guarantee his take-over of the Roman Empireprobably had nothing to do with it (yeah, right. ) But logic andstudy of history does convince me that Constantine and the other "powersthat be" in those days created the Church as they wished it to be inorder to control more of the masses and put forth their own concepts ofright and wrong, good and evil, and they completely ignored whatthousands had held to be the truth.The Nicene Council of bishops chose (and rewrote in some cases) the 66books that we know as the Holy Bible, and they had an agenda to putforward -- that of controlling the masses of humanity and making TheChurch the ruler of everything on this earth. Anyone with an ounce ofcuriosity and common sense, it seems to me, would be interested inknowing just what was in those texts that they discarded and latersuppressed and tried to destroy. These texts make up what has come tobe known as the Gnostic Bible, and ladies and gentlemen, there is nomore fascinating reading to be found.The Gospel of Mary Magdalene is one of those forbidden texts and thisbook explores in detail exactly who Mary was and why the Church fatherswanted her and her gospel suppressed. This text, unfortunately, did notsurvive in it's entirety, so this study is incomplete, but what doesremain is very powerful.It has long been believed among Gnostics that Mary Magdalene was thewife of Jesus, and this gospel goes a long way to proving that. Not bycoming out with it in so many words, but by the insinuation that thetruths Jesus revealed to Mary were much deeper and more mystical thanany he ever revealed to any man. Remember how the gospels agree thatMary was the first person to see the resurrected Christ on Eastermorning? And how he told her not to touch him? LeLoup in this studyopines that a world of information passed between them in those silentmoments in front of that tomb that morning, in a form of informationconduit between two joined souls. Anyone who has ever been fortunateenough to marry their "soulmate" will understand exactly how such athing can be. The other disciples, especially Peter, were exceedinglyjealous that Jesus would choose to reveal these truths to Mary, a merewoman, and not to one of them. Some of the disciples joined him in hisscoffing, but others (most notably Thomas and Bartholomew) studied atMary's feet. It was in these moments, as Mary taught them the truthsrevealed to her by Christ, that the chasm between the Gnostic Christiansand what would later go on to become the Catholic Church began.Obviously, this particular Gospel was discarded and suppressed becauseit came to us through a woman, but there is a great deal more to itthan that. It reveals the innate equality between men and women in themind and heart of God and the men who ran the church just couldn't abidethat. It also reveals certain "truths" that are diametrically opposedto what the Church wanted to embrace, pertaining to the nature of Godand spirituality itself.This gospel is a fairly short text, fragmented by the loss of time, butstill holds many powerful truths. Leloup's commentary is easy to followand understand and it is very well researched. There is much food forthought within this slim volume, which is why I would not recommend itas a "quick read." It should be eaten in small bites and chewed long.But at the end of it, I walked away more satisfied than I've been in along time.