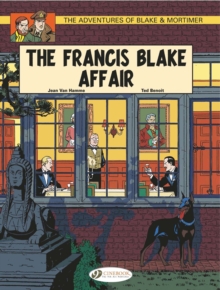 The Adventures of Blake and Mortimer : The Francis Blake Affair v. 4
Paperback
Description
Scandal breaks in the London press: There is a mole in the Intelligence Service! And it appears without a doubt, on a photograph taken by agents of MI 5, that the mole wears the face of Francis Blake!
Mortimer is determined to believe that his friend has been forced to act against his will.
But the initial investigations sweep away this hypothesis: Blake has opened, under an assumed name, an account fed by payments coming from the Bahamas.
In a few months, he has withdrawn 30,000 - more than 10 times his annual pay!
With MI 5 agents planning to try Blake for high treason, or to kill him if needed, Mortimer decides to find his friend before they do.
A long hunt begins.
Information
Format: Paperback
Pages: 68 pages, 669 illustrations
Publisher: Cinebook Ltd
Publication Date: 01/09/2008
Category: Comics and Graphic Novels
ISBN: 9781905460632
Free Home Delivery
on all orders
Pick up orders
from local bookshops
Reviews
Showing 1 - 1 of 1 reviews.
Review by Michael.Rimmer
27/08/2015
Clearly inspired by John Buchan's <i>The Thirty-nine Steps</i>, this adventure sees Captain Blake on the run, accused of being a spy and a murderer, whilst Professor Mortimer pursues him across the north of England and into the Scottish Highlands in an attempt to aid and exonerate him.Rather than one finger too few, as in the case of Hannay's nemesis, Blake and Mortimer must beware the man with six fingers!When will Colonel Olrik learn <i>not</i> to stand so close behind Mortimer when covering him with a gun? It always ends with an elbow to the solar plexus and a right cross to the chin! Despite some predictable elements, the plot delivers some deft misdirections regarding the identity of the mole in the upper echelons of the intelligence service.