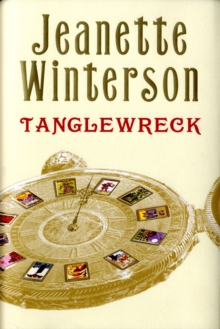 Description
In a house called Tanglewreck lives a girl called Silver and her guardian Mrs Rokabye.
Unbeknown to Silver there is a family treasure in the form of a seventeenth-century watch called the Timekeeper, and this treasure holds the key to the mysterious and frightening changes in time.
When Silver goes on the run to try and protect herself and the Timekeeper, a remarkable and compelling adventure unfolds full of brilliance and wit, as is befitting an author with the imagination and style of Jeanette Winterson.
Information
Format: Hardback
Pages: 416 pages
Publisher: Bloomsbury Publishing PLC
Publication Date: 03/07/2006
Category: Fantasy
ISBN: 9780747580645
Other Formats
Hardback from £6.99
Paperback from £6.59
EPUB from £5.59
Free Home Delivery
on all orders
Pick up orders
from local bookshops
Reviews
Showing 1 - 3 of 3 reviews.
Review by hayleyscomet
16/06/2015
A young adult fantasy novel by Jeanette Winterson seemed like too good of an idea to pass up. And I was definitely not disappointed. There was nothing groundbreaking about this novel: it was your standard fantasy-adventure story, with a plucky young heroine who has lost her parents and needs to find a special something (the Timekeeper, in this case) to save the world. Of course, she is helped by funny-looking characters and hindered by dark and frightening villians, including a distasteful aunt who 'cares' for her, along with her evil pet bunny. But while there is nothing incredibly <i>new</i>, it is all done incredibly <i>well</i>. The main character is a red-haired, green-eyed girl named Silver--how could I not adore this book? This might be a pulpy young-adult fantasy novel, but it's among the best of those. It was incredibly entertaining, and I'm hoping dearly for a sequel.
Review by nicthechic
16/06/2015
Good flow of story, liked the story idea, interesting characters, light read as seems aimed at 10-14 yo's, good adventure, good for escapism.
Review by catfantastic
16/06/2015
Time Tornadoes are sweeping through London - sweeping up and disappearing people, buses and buildings and causing widespread panic and confusion. Time is coming apart - in the modern world, everyone is moving faster, everyone is saying they haven't got enough time, and now they really don't. The American company Quanta, run by the beautiful and sinister Regalia Mason, offers to fund the world's top scientists to solve the mysteries of time - in exchange for total control of Time. Abel Darkwater, a centuries old alchemist, wants to become ruler of the universe, and he knows if he can find the Timekeeper he can do it. The Timekeeper is lost, but all the clues point to Tanglewreck, a mysterious old house with a mind and a magic of its own. The inhabitants of Tanglewreck are an eleven year old girl, Silver, the descendant of the pirate who built the house, and her cruel aunt, Mrs. Rokabye and Mrs. Rokabye's evil rabbit, Bigamist. Silver must stop Regalia Mason and her company Quanta from gaining control of Time - something that will have terrible implications for the future of human history. She must also escape Abel Darkwater, who is hunting her for control of the Timekeeper. Luckily, she has the help of Gabriel, a member of a long-lived clan who live underground and escaped from Bedlam hundreds of years ago. There is a lot going on in this book - multiple characters, plot lines, time lines and realities. A lot of it I liked. I love Winterson's beautiful writing, and I loved the way she wove quantum theory and science all throughout the narrative. The surreal magic of Tanglewreck and the multiple realities really appealed to me. The main characters felt flat, however. Silver and Gabriel never interested me as much as Regalia Mason and Abel Darkwater, the villains, and were in fact overshadowed by them, and their story lines, more and more as the book progressed. The story seemed to be going in all directions at once and moved quite slowly as a result. Silver seemed very aimless and I never felt like she really took charge of the narrative. Regalia Mason was much more intriguing!