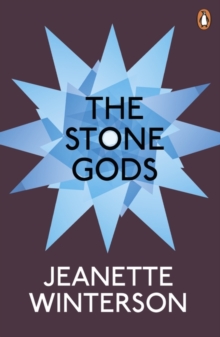 Description
The Stone Gods is one of Jeanette Winterson's most imaginative novels -- an interplanetary love story; a traveller's tale; a hymn to the beauty of the worldOn the airwaves, all the talk is of the new blue planet - pristine and habitable, like our own 65 million years ago, before we took it to the edge of destruction. And off the air, Billie and Spike are falling in love.
What will happen when their story combines with the world's story, as they whirl towards Planet Blue, into the future?
Will they - and we - ever find a safe landing place?
Information
Format: Paperback
Pages: 256 pages
Publisher: Penguin Books Ltd
Publication Date: 05/05/2008
ISBN: 9780141032603
Free Home Delivery
on all orders
Pick up orders
from local bookshops
Reviews
Showing 1 - 5 of 5 reviews.
Review by chauve-souris
16/06/2015
Wonderful book. It's one of Winterson's philosophical speculative fiction books, not one of her more narrative fiction books, so pick it up with that mindset. I can't stop thinking about it. Five stars.
Review by M.Campanella
16/06/2015
This book is science fiction. Some people have a problem with this.How people react to this is always of great entertainment. It can be seen in the various online reviews of this book, trying to decipher what it is and what it is not. Most comical for me was when one reviewer insisted on correcting all the errors about Easter island the book contains; how captain cook did not abandon any of his crew on that island, how the deforestation of that island actually happened, how the natives really treated Cook and his crew. Clearly, he did not understand what was meant by the word fiction. I am sure no one questioned the validity of Jeanette Winterson's web-footed Venetians in 'The Passion', or her extraordinary revision of Noah's ark in 'Boating for Beginners'. In fact, that she even got any facts correct about Easter Island impressed me. While I was reading this I assumed, being completely ignorant of Easter Island and it's history, that the fact that it had been completely stripped of trees was a fact of her invention. I was willing to go that far to listen to Winterson's argument.Someone else nominated the absurdity of space travel for the purpose of alleviating a polluted planet. Again, the actual functionality of this plot is not the point, the point was to illustrate a flaw in human nature that causes us to have an effect on our planet.
Review by Virtual_Jo
16/06/2015
Lyrical, harrowing and thought-provoking visions of the past and future.
Review by evaberry
16/06/2015
What starts off feeling like a vanity project and a jumble of ideas does get woven together into a coherent tapestry and an intriguing theory about time and the universe. I do feel that it could have been developed a bit further - on both the personal and the universal levels - and the different sections tied together a bit more closely. The reader is not given time to become invested in any of the characters.
Would have liked it more if it had a clear beginning, middle and ending. Starts off with party sent to colonize another planet due to wearing out resources on current one. Found it mildly intersting, but cut short. Then a few minor chapters from different time zones and then finishing back on the war torn/dying planet. Can't quite unravel the timeline and wish it was more explicit. (Perhaps I shouldn't have skipped the captain cook chapter).