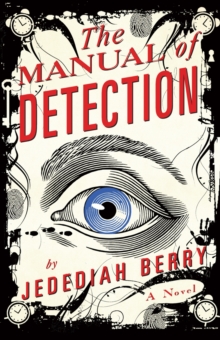 The Manual of Detection
Paperback
Description
In this tightly plotted yet mind-expanding debut novel, an unlikely detective, armed with only an umbrella and a singular handbook, must untangle a string of crimes committed in and through people's dreams. In an unnamed city always slick with rain, Charles Unwin is a humble file clerk working for a huge and imperious detective agency, and all he knows about solving mysteries comes from filing reports for the illustrious investigator Travis Sivart.
When Sivart goes missing, and his supervisor turns up murdered, Unwin is suddenly promoted to detective, a rank for which he lacks both the skills and the stomach.
His only guidance comes from his new assistant, who would be perfect if she weren't so sleepy, and from the pithy yet profound Manual of Detection. The Manual of Detection defies comparison; it is a brilliantly conceived, meticulously realised novel that will change what you think about how you think.
Information
Format: Paperback
Pages: 288 pages
Publisher: Cornerstone
Publication Date: 03/06/2010
ISBN: 9780099533856
Free Home Delivery
on all orders
Pick up orders
from local bookshops
Reviews
Showing 1 - 3 of 3 reviews.
Review by wyvernfriend
16/06/2015
This really wasn't a good book for me, it's a good book but it's not me. My sister would probably love it, or my younger brother. Charles Unwin is a file clerk who works for a detective agency and he files reported for investigator Travis Sivart. Travis goes missing and Unwin is promoted to his post. He's not suited for the job but in order to be demoted he has to find Sivart. So arnmed with the Manual of Detection he goes to investigate it.There's a lot of surreal dream-work here and even at the end I wasn't sure if it was a dream or reality for the characters and I'm still unsure what the outcome was. As I said not a bad read but not a me read.
Review by AlexBrightsmith
16/06/2015
I'm tempted to write a very brief review of this book, since all it really needs is this:<br/>This is a beautiful book.<br/><br/>If that's enough for you, and our notions of beauty match, you will be hooked from the first lines. If that's not enough for you, and it takes all sorts, I suppose, it's by no means its only strength.<br/><br/>In a city that has taken the bones of New York but is no city and every city, down mean streets that are in every way perfectly Raymond Chandler's archetypal mean streets, walks (well, cycles, actually) a detective who is, as Chandler required, in no way mean, a man who <i>should not be</i> a detective (though not, perhaps, in the sense intended in Chandler's famous essay on The Simple Art of Murder.<br/><br/>But I don't want to put you off if you don't think detective stories are your thing. This <i>is</i> a detective story, but it is also very much its own thing, and should not be constrained by categorisation. It is shot through with perfect one-liners. It is occasionally unexpected. It is intriguing, evocative, enveloping and beguiling. And though there is violence it is never casual, but every death a scar on the world and on the heart of whoever causes it<br/><br/>It also, sadly, joins the short list of books that I would love a second chance to read for the first time, this time without the spoiler, and if you can manage to read it without reading the cover blurb first I think you'll find it more rewarding.
Review by flydodofly
27/08/2015
This book is written in a style of a classic noir/detective novel, but one gone awry and fantastic. I enjoyed a few lovely phrases in the beginning of the book, like "...it was the cloud of her eyes, and something on the other side of them, just out of sight." or"...with only the weather having anything to say, and the weather spoke only of itself." or"...the world is unkind to the shoeless and frolicsome."and some of the ideas and motifs, but when things kept getting more and more muddled (dream-like) I just could not keep interest. In the end I had to more or less force myself to quickly browse through the last fifty pages of the book, to see whether the end may give me something to hold on. Well, it did not. I am absolutely sure a fan of the genre can get much more out of it then I could, as I would assume there were many cross-references to other characters and books. The right audience is out there.