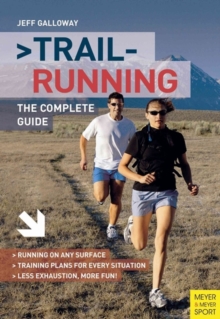 Trail Running : The Complete Guide
Paperback / softback
Description
Get off the pavement and discover the joy of running in nature.
This book provides the reader with all the necessary information to get started on natural terrain. If you want to experience the real freedom of running in a natural surrounding and if the ever repeating runs in the streets start to bore you, trail running is the right way to improve your running experience.
The running guru Jeff Galloway offers his own approach of getting started with his unique way of guaranteeing an injury free running style.
With his Run-Walk-Run(R) method Jeff helps beginners to start trail running the right way.
Advanced runners can use a specialized training program which will help them against overtraining, injuries, and other calamities you can encounter during intense training sessions.
The book covers a wide range of trail running equipment too.
If you want to jumpstart your trail run, this is your complete guide.
Information
Format: Paperback / softback
Pages: 180 pages
Publisher: Meyer & Meyer Sport (UK) Ltd
Publication Date: 01/11/2013
Category: Marathon & cross-country running
ISBN: 9781782550112