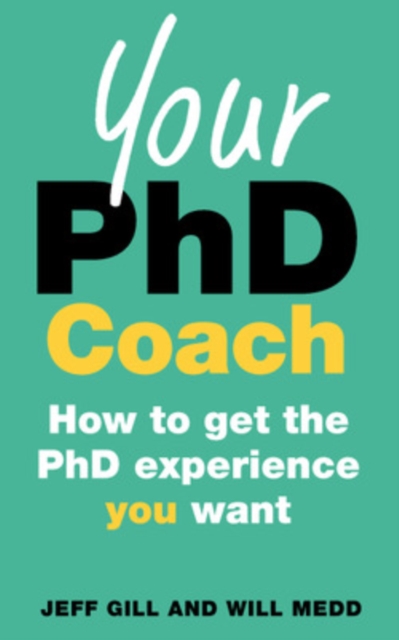 Description
This book is your own personal PhD coach. It's not just about surviving your PhD, it's about thriving in the experience.
Taking a unique self-coaching approach, this book will enable you to understand how to navigate your way through the various challenges posed by PhD study with resilience, self-sufficiency, and the determination to succeed.
Each chapter contains self-coaching challenges so that you can discover what works for you and generate fresh ideas to enable you to move forwards, banish self-doubt, bust procrastination, and realise your full potential to make the most of your PhD experience.Your PhD Coach will enable you to: Build resilience and self-leadershipChallenge yourself to be focused and achieve aspiring goalsFind the right balance and nurture stronger relationshipsDevelop your confidence, creativity and motivationUsing a coaching philosophy that helps you realize your own solutions and develop your own strategies to move forward, the book is packed full of techniques, tips and tricks applicable to a wide range of circumstances both within the PhD process and beyond - an essential book for all those taking on the challenge of PhD research. "Medd and Gill go deep into the under the skin of what it is like to do a PhD, pull out the reality of the operation and offer some sound advice.
They provide effective techniques to bust the 'gremlins' – the voices in the head - that can haunt postgraduate researchers and diminish the research experience.
I urge all research students (and supervisors) to read this very accessible book.
It will help them reflect deeper into their research experience and help build confidence in themselves and (re)gain satisfaction in their work and studies."Dr Richard Hinchcliffe, Academic Development, Centre for Lifelong Learning, University of Liverpool, UK"Coaching empowered me to reclaim my PhD and this book will enable many more students to do the same.
Will Medd and Jeff Gill have a deep understanding of the PhD process and students reading this book, at any stage in their PhD, will find themselves thinking 'Wow, that is exactly how I feel!' The book challenges the inevitability of the 'PhD steam-roller' and its comfortable and chatty tone creates a friendly guide for those struggling with the demands of a PhD and inspiration for those who want to get the most from the whole experience." Beth Brockett, PhD Student, Lancaster Environment Centre, Lancaster University, UK
Information
Format:Paperback / softback
Pages:184 pages
Publisher:Open University Press
Publication Date:16/09/2013
Category:
ISBN:9780335247677
Information
Format:Paperback / softback
Pages:184 pages
Publisher:Open University Press
Publication Date:16/09/2013
Category:
ISBN:9780335247677