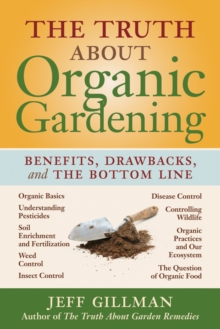 The Truth About Organic Gardening : Benefits, Drawbacks, and the Bottom Line
Paperback
Description
Gardeners tend to assume that any product or practice labeled as organic is automatically safe for humans and beneficial to the environment. And in many cases this is true. The problem, as Jeff Gillman points out in this fascinating, well-researched book, is that it is not universally true, and the exceptions can pose a significant threat to human health.
To cite just two examples: animal manures are widely viewed as prime soil amendments.
When properly treated, they are; but if they are insufficiently composted, they can be a source of harmful E. coli contamination. Even more dangerous, potentially, are organic insecticides like rotenone, which is every bit as toxic as the synthetic compounds it is meant to replace.Gillman's contention is that all gardening products and practices - organic and synthetic - need to be examined on a case-by-case basis to determine both whether they are safe and whether they accomplish the task for which they are intended.
When gardeners are well informed about the precise nature and consequences of what they use and do in the garden, they are in a much better position to make responsible, effective choices. If you've ever wondered about the merits of a specific insecticide, herbicide, or fungicide, or debated whether practices such as planting cover crops or companion plants are worth the trouble, you'll find the answers you've sought in these pages, along with a clear, careful, and good-humored analysis of benefits and drawbacks.
Ultimately, Gillman concludes, organic methods are preferable in most situations that gardeners are likely to encounter.
After reading this eye-opening book, you will understand why, and why knowledge is the gardener's most important tool.
Information
Format: Paperback
Pages: 208 pages
Publisher: Timber Press
Publication Date: 01/02/2008
Category: Organic gardening
ISBN: 9780881928624
Free Home Delivery
on all orders
Pick up orders
from local bookshops
Reviews
Showing 1 - 1 of 1 reviews.
Review by JudithProctor
16/06/2015
"The Truth about Organic Gardening" is a book that deals in facts. Gillman isn't partisan - if an organic practice is good, he'll say so. If a non-organic practice is good, he'll say so. He's a solid background in teaching and researching horticulture and if he says something, it means he's checked it out and isn't just saying it because he wants it to be true. For instance, when looking at herbicides and pesticides, he considers them on their individual merits. He points out that some synthetic pesticides are very dangerous and some are very safe; likewise organic pesticides vary in their safety (he considers rotenone to be very dangerous).'Natural' does not mean 'safe to humans'.Gillman also discusses other methods of pest control - his favourite approach of standing back and doing nothing has a lot going for it. He points out that if plants are well watered and fertilised, then they can afford to lose about a third of their leaf area without suffering great harm and that their natural resistance is higher when they're well looked after.He's got a good sense of humour. When he talks about controlling Japanese beetles (an American pest, so not directly relevant to the UK, but still interesting to read about), he talks about pheromone traps. He rates them as ineffective - because there are so many of the beetles, even though the trap kills a lot of them it also attracts more into the neighbourhood. He suggests giving a trap to someone you dislike and watch as their garden fills up with beetles!The book looks at many areas of organic practice (and Gillman is fair to point out that some of these techniques are used by non-organic gardeners as well) from green manures to bird control.For each practice/technique, Gillman spends a page or so discussing it, then neatly sums up the pros and cons in bullet points at the end. It's a very good format for dipping and browsing and easy to read/extract information on.He also understands statistics. (You wouldn't believe how rare this is) When discussing the results of a study, he'll point out how much confidence can be placed in the result. (eg. if 4 out of 500 people get cancer during a study of a weedkiller, what is the likelihood this could have happened by chance? Low numbers are subject to wide fluctuations. ie. 4/500 is a lot less reliable data than 16/2000)(and indeed, a later study with 54,000 people did not show any increase in cancer at all for that particular weedkiller). He's also concerned that studies are often not carried out on organic pesticides/weedkillers because they are assumed to be safer. But rotenone (which is natural) kills just as many fish and frogs as glyphosphate (which is synthetic).I'd recommend this as an interesting book for anyone who wants to know the pros and cons of different gardening techniques and likes to have some data to support the opinions of the writer. This is NOT a 'how to do organic gardening' book, but it is a good unbiased study of what works and what is safe.
Also by Jeff Gillman