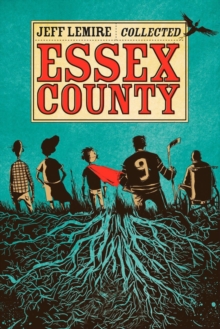 The Complete Essex County
Paperback
Description
* Where does a young boy turn when his whole world suddenly disappears?
What turns two brothers from an unstoppable team into a pair of bitterly estranged loners?
How does the simple-hearted care of one middle-aged nurse reveal the scars of an entire community, and can anything heal the wounds caused by a century of deception?
Award-winning cartoonist Jeff Lemire pays tribute to his roots with Essex County, an award-winning trilogy of graphic novels set in an imaginary version of his hometown, the eccentric farming community of Essex County, Ontario, Canada.
In Essex County, Lemire crafts an intimate study of one community through the years, and a tender meditation on family, memory, grief, secrets, and reconciliation.
With the lush, expressive inking of a young artist at the height of his powers, Lemire draws us in and sets us free. * This new edition collects the complete, critically-acclaimed trilogy (Tales from the Farm, Ghost Stories, and The Country Nurse) in one deluxe volume!
Also included are over 40-pages of previously unpublished material, including two new stories.
Information
Format: Paperback
Pages: 512 pages, illustrations
Publisher: Top Shelf Productions
Publication Date: 29/08/2009
Category: Comics and Graphic Novels
ISBN: 9781603090384
Free Home Delivery
on all orders
Pick up orders
from local bookshops
Reviews
Showing 1 - 5 of 19 reviews.
Previous | Next
Review by booksmitten
16/06/2015
Hard to know what to say about this moving, brilliant collection. Crossover appeal for young adults in the three volumes, but for adults, I would recommend reading it in its full, collected form. Reading them all together made it easier to see all of the interconnections, and the place itself had such a role in defining peoples' lives -- reminded me of Faulkner's Yoknapatawpha County. The first volume is bleak and hope-filled and made me teary on both ends of the spectrum. You even get the way-back ancestors arriving myth, and the generations of the same family through the years. The artwork is arresting and even a little harsh with its stark contrasts, but the stories and the narrative progression are so subtle. Loneliness and connection swirl about, and what more to say than that I was dumbstruck by its beauty, visually and emotionally.
Review by msf59
16/06/2015
This wonderful graphic collection, contains three individual but interlocking books, all set in this fictional Ontario county, based on the author's place of birth. The first book, my favorite, is about a lonely boy and his taciturn uncle living on a isolated farm. The boy escapes into a fantasy world of comic books and superheroes. The story is dark, spare and very touching. The second book features a pair of hockey playing brothers (hockey is of course featured prominently in these tales) and how their strong relationship is destroyed by betrayal. The third is about a country nurse, who spends her time caring for and dispensing advice to her ailing patients. She is a lovely character and helps tie these stories together in a most beautiful way. If anyone is on the fence about trying a graphic novel, give this one a try, I think it will bring you around.
Review by LynnB
16/06/2015
This is my frist graphic novel. I was surprised at how much the author was able to draw me into the lives of the characters with so little text! I found the story very moving and the main characters as fully developed as in any novel.It is a story of family loyalties and of betrayal. I recommend this to anyone curious about graphic novels, or just searching for a good story. Like others, I recommend finding the collected volume as the three "books" together provided a depth that any one story alone wouldn't have. I think reading the whole collection at once contributed a great deal to my appreciation of the characters and the genre.
Review by DeltaQueen50
16/06/2015
An amazing collection of stories, Essex County weaves tales of secrets, love and relationships together to create a breathtaking, complex look at family. I loved everything about this book, the drawings, the writing, how the author conveyed emotion into every stroke of his pen. His stylized pictures showing the passage of time was brilliant. These stories brought both tears to my eyes and smiles to my lips.I was sorry to see each story end, but then I was immediately drawn into the next one. And although they are all connected and interwoven, they could just as easily stand on their own. The author also added such strong Canadian touches, from our love of hockey to references to Canadian Tire Stores and Esso Gas Stations. Essex County is in Ontario, but this look at rural life could have been just about in any of our provinces.With Essex Country I can see just what graphic novels have to offer. Emotional yet subtle, complete storytelling by picture and a few perfectly chosen words. This is a book that I will be thinking of often and I can't praise it enough. I highly recommend this beautifully crafted book.
Review by Iudita
16/06/2015
I've never read a graphic novel before and I hadn't really intended to read this one - just to leaf through it to see what it was like. However every time I put it down I was compelled to pick it back up again. It was surprising to me how so few words and such simple illustrations were able to invoke such feeling and meaning. I was impressed.