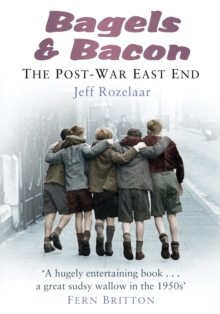 Bagels & Bacon : The Post War East End
Paperback / softback
Description
Jeff Rozelaar was born into a Jewish family and raised in an East End bombarded by Hitler's V2s.
Fortunate enough to be one of the lucky survivors of the Nazi menace, he was able to play in the streets among the resultant debris with his schoolmates.
Jeff spent his formative years in the heart of a truly multicultural community.
The streets of East London provided a vivid playground for the youngster; mixing with the many colourful characters and hustlers on Petticoat Lane, taking a job with an uncle as a bookie's clerk for pocket money and attending the Brady Club - a place for local youngsters to go dancing, play football, and explore the mysteries of the opposite sex. Jeff's family consisted of Nancy, the proverbial domineering Jewish mother, his somewhat naive father Henry and sister Bernice.
Among the wider family circle were numerous quarrelsome aunts, a trio of Communist cousins and the prolifically fertile grandmother Rebecca who lived in a council flat next to a communal rubbish chute.
Most of the family were law-abiding citizens, but a few were collared by officialdom, and one by the infamous Krays.
This vivid account of growing up is told with passion and humour.
The captivating anecdotes within, both poignant and entertaining, are immersed in the sights, sounds and smells of the East End in the post-war era.
Information
Format:Paperback / softback
Pages:128 pages
Publisher:The History Press Ltd
Publication Date:01/02/2011
Category:
ISBN:9780752458700
Also by Jeff Rozelaar