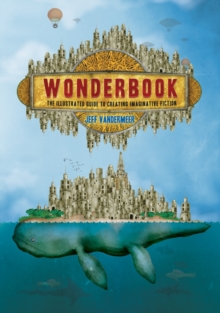 Wonderbook : The Illustrated Guide to Creating Imaginative Fiction
Paperback
Description
Wonderbook will be the definitive guide to writing fantasy.
This innovative book will take a completely novel approach on a writing guide, fully exploiting the visual nature of fantasy through original drawings, maps, renderings, visualisations and exercises that will result in a spectacularly beautiful package that is more than just a guide, but also an inspiring object.
Through an accessible, example rich approach that emphasises the importance of playfulness and pragmatism, Wonderbook will energise and motivate while also providing practical, nuts and bolts information needed to improve as a writer.
Throughout the book, author Jeff VanderMeer will apply examples from his own fiction in both draft and revised versions, as well as reference his teaching experience.
Aimed at aspiring and intermediate-level authors, this book is geared toward both teens and adults and stands out in the genre through its bold, full-colour, inventive approach to stimulating creative writing.
Information
Format: Paperback
Pages: 352 pages, 100 colour illustrations
Publisher: Abrams
Publication Date: 01/10/2013
ISBN: 9781419704420
Free Home Delivery
on all orders
Pick up orders
from local bookshops
Reviews
Showing 1 - 3 of 3 reviews.
Review by jen.e.moore
16/06/2015
This book was so utterly spectacular I couldn't bear to bring it back to the library without photocopying a couple of the writing exercises to hoard for myself. I'll surely be buying one of my own sooner or later.
Review by ladycato
16/06/2015
Many writers I know praised this book greatly when it came out last fall. I asked for it as a Christmas gift.It's a beautifully designed book, though very heavy and unwieldy; I wish it had been bound in spiral to make it easier to hold and to withstand its own weight. The back pages are already feeling weak like they could come loose. The content is well-organized and very friendly. This would be an ideal textbook for a creative writing class--it's certainly a hundred times better than the dull book I had at college ages ago. The illustrations are lush and often strange. The full thing is in color and uses odd graphics to depict various stages of the writing process.Overall, though, it didn't do anything for me. I like it. I can see why so many others raved about it. It simply didn't resonate for me personally. I do think I'll pass it along to my teenage niece, who is an aspiring writer and an artist. I think she'd enjoy it for the visual angle alone.
Review by TPauSilver
27/08/2015
The weakness of any writing guide is that it can only teach you how the author writes, the things they value in a story and in the writing process. Some things are universal but many things are not. This is a very beautiful and very through study of one way to write a book, and is interesting for that. There's a lot of very good advice and it's laid out in a very accessible way. If nothing else it has forced me to stop when I disagree with what's being said and think about WHY I disagree with that. Often the answer I've come down to is the advice is great if you're trying to craft this kind of story and not so much for other kinds of stories. It also encourages over-thinking of every aspect so much I wonder how he ever gets any words down (over-thinking is part of the editing process when I write). That said, I'm not entirely convinced that the illustrations add much to the text, this is still an illustrated text book with the focus on the words instead of being integrated. They're lovely images but...And much of the advice is general writing advice as opposed to advice that related directly to speculative fiction. I'd have liked a little more of the book to focus specifically on different genres and discussion of how to incorporate different fantastical ideas into text.