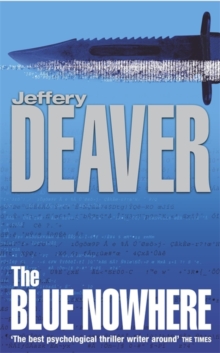 The Blue Nowhere
Paperback
Description
Someone is killing people in Sacramento Valley. Seemingly unrelated, the deaths are perpetrated by a murderer who knows everything there is to know about the victims - who can kill them because of the intimacy he seems to have with them. An intimacy which is created by his ability to track their every move through the virtual world, as soon as they switch on their computer.
Streetwise cop Frank Bishop is detailed to the case, allied unwillingly to a young hacker, Wyatt Gillette, who is sprung from prison to pit his brilliance against the criminal's. But no one knows who to trust in an environment where everything is suspect, and pressing the wrong letter on your keyboard may mean death.
This is the novel that will make you hesitate every time you click on the box that says 'Are you sure you want to send this over the Internet?'.
Information
Format: Paperback
Pages: 448 pages
Publisher: Hodder & Stoughton General Division
Publication Date: 09/05/2002
Category: Thriller / suspense
ISBN: 9780340767511
Other Formats
Paperback from £7.85
EPUB from £4.99
eAudiobook MP3 from £13.40
Free Home Delivery
on all orders
Pick up orders
from local bookshops
Reviews
Showing 1 - 5 of 6 reviews.
Previous | Next
Review by camelot2302
16/06/2015
There are books that are great and there are some books which are greater than great. These books grab you, paralyse your body so you can't stop reading and do something else and you are hooked until the very last page. "The Blue Nowhere" is such a book. It's the "Da Vinci Code" all over again!The plot has already been described on this page so I won't repeat it. But suffice to say, once you have finished reading this book, you'll see the internet in a whole new light!There are so many twists and turns that it is impossible to predict what will happen next. One of my regular tricks while reading is to try to guess the guilty culprit by the middle of the book at the latest. My success rate is reasonably good but I have to admit, I got it totally wrong this time! There are so many twists and U-turns that you're left dizzy! Oh and when you finally discover the guilty culprit, you'll fall off your chair in shock!My one slightly negative comment about the book is that in some places, you're given too much technical information about computers. (Mr Deaver has definately done his research on this book!!) With these parts of the book, you start to suffer from "information overload" and you have to re-read these sections to understand it properly.If you hate computers and the internet then this book is definately not for you. On the other hand, if you are a computer & internet addict (like me!) then you will devour this book! It's action-packed, it makes you sweat with tension and this is one book I will definately keep and read again! HIGHLY RECOMMENDED!OK, I'm off to eat something for the first time in 24 hours and then I am off to check out those hacker chatrooms Mr Deaver told me about! Oh and is it just me or does the Patricia Nolan character remind you of Kathy Bates? She would be perfect to play Nolan in any movie adaptation of the book.
Review by edwardsgt
16/06/2015
The trouble with computer crime stories is they date very quickly, this is no exception.
Review by TheoClarke
16/06/2015
A brilliant hacker is released from jail to help the police capture a cybercriminal who finds and researches the lifestyles of his victims so that he can fool them into accompanying him to their deaths. A sparsely written thriller conveying Deaver's apparent view that cyberspace, or in his term 'The Blue Nowhere', is a sterile environment offering intellectual challenges to the emotional deformed.
Review by Parsiya
16/06/2015
Although containing some "hacker myths" like deformed fingers from extensive typing etc etc. The book had a lot of redundancies to familiarize the general public with computer jargon. From the "Civilians' Point of View" it does a good job, but from a Computer Geek it has loads of boring conversation about what we already know packed with few scenes of Intense action.All in all, I liked this book.
Review by riida
16/06/2015
i have always found fiction about computer security very hard to enjoy ('net force' and 'digital fortress' come to mind). i guess being in the industry myself, i find them more annoying than entertaining (an experience that may be similar to a history major sitting down to watch pearl harbor??). i had high hopes at the beginning of this book. in spite of myself, i found the early chapters actually sound credible - tech-wise...but as the story went on, the inaccuracies in all the techno-babble quickly made them sound like poor attempts at geek-ery. although i realize, of course, that all the hacking and computer security stuff was nothing more than a plot devise, it still kind of ruined the experience for me.having said that, i have never enjoyed a novel based on it security as much as i have this one :)