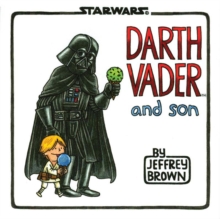 Darth Vader and Son
Hardback
Description
What if Darth Vader took an active role in raising his son?
What if 'Luke, I am your father' was just a stern admonishment from an annoyed dad?
In this hilarious and sweet comic reimagining, Darth Vader is a dad like any other- except with all the baggage of being the Dark Lord of the Sith.
Celebrated comic artist Jeffrey Brown's delightful comics give a fresh twist to classic Star Wars TM moments, presenting the trials and joys of parenting through the lens of a galaxy far, far away, including lightsaber baseball practice, using the Force to raid the cookie jar, and Take Your Child to Work Day on the Death Star ('Er, he looks just like you, Lord Vadern, and the special bond shared between any father and son.
Information
Format: Hardback
Pages: 64 pages
Publisher: Chronicle Books
Publication Date: 01/04/2012
Category: Science fiction
ISBN: 9781452106557
Free Home Delivery
on all orders
Pick up orders
from local bookshops
Reviews
Showing 1 - 5 of 26 reviews.
Previous | Next
Review by Ginerbia
16/06/2015
I just read the sweetest book, ever!What would have happened if Darth Vader would have raised Luke?This most adorable book shows Darth and Luke visiting the zoo, assembling light sabers, building LEGO spaceships, playing baseball, and lots of other fun things fathers and sons do.This book is a must for any Star Wars fan of any age.
Review by DanieXJ
16/06/2015
Hilarious doesn't begin to explain what this picture book is. The title makes it obvious what its topic is, Darth Vader in a kid friendly way.Basically it's a bunch of individually drawn pages, each with a father and son sort of joke or situation. There's stuff like 'Are we there yet?', and little Luke doing a pee pee dance, but it all has a Star Wars twist.I was surprised that this was shelved in the children's room though, because some of the jokes in the book seemed like they were too old, not only for the kids to be exposed to, but even to understand.Still. Hilarious.
Review by theokester
16/06/2015
Normally I save my reviewing for longer books but this book was so much fun I just had to make a plug to help get the word out. Darth Vader and Son was recommended a couple of months ago when I was reading another "Dad" book ("Dad Rules.").Darth Vader and Son is a cute and fun ~60 page art/comic book. While the book doesn't have a particular plot arc that it follows, it has great storytelling moments that are portrayed fabulously. As the title implies, this book is about the interactions of Darth Vader and his son. (For the 1% of you who aren't up on Star Wars lore…be aware that this book poses some pretty blatant spoilers, though I think the spoiler grace period there ended in the early 80s).In the book, Luke Skywalker is a young (5-8 year old?) boy wandering the universe with his dad…the intimidating Darth Vader. The scenes range from endearingly sweet to laugh out loud hilarious. Aside from the blatant relation to the Star Wars universe, there are a bunch of more subtle nods to lesser known elements.The art style is solid and a lot of fun. The author (Jeffrey Brown) has a website where you can get a glimpse of his art style and find links to his other work. I haven't read or seen anything else by him but my whole family has enjoyed reading through Darth Vader and Son. Even though we've all read it, my kids love holding the book in front of another family member with a "Lookit! Lookit!" to get us giggling again at the fun juxtaposition of the powerful Darth Vader and a cute little Luke.This is a fun little read for any Star Wars fan who is willing to poke a little fun at the universe. Great for parents, kids or just kids at heart.****4 out of 5 stars
Review by eenerd
16/06/2015
Totally adorable and hilarious -- from the point of view of a parent of an almost 4-year-old *as well as* a serious Star Wars fan. Funny, inventive, and cute. YOU WANT TO READ THIS BOOK.
Review by meggyweg
16/06/2015
Meh. This was okay, I guess. Maybe it was because I am not that much of a Star Wars fan, but I felt kind of tepid about it. None of the cartoons made me laugh out loud or even chuckle (there were smiles though), and they all seemed pretty generic. My boyfriend is a huge Star Wars fan; I'll see if he likes this book more than I do.