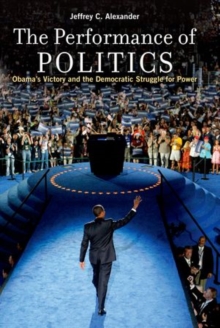 The Performance of Politics : Obama's Victory and the Democratic Struggle for Power
Paperback / softback
Description
Contemporary observers of politics in America often reduce democracy to demography, and presidential elections are no exception.
But do differences in class, gender, race, and religion really determine the vote?
The Performance of Politics develops a new way of looking at democratic struggles for big-time power and it explains what happened, and why, during the 2008 Presidential campaign in the United States.
Through a series of simple but telling concepts about meaning and performance in public life, illustrated with vivid examples drawn from a range of media coverage, participant observation at a Camp Obama, and interviews with leading political journalists, Jeffrey Alexander argues thatimages, emotion, and performance are the central features of the battle for power.
While these features have been largely overlooked by pundits, they are, in fact, the primary foci of political actors.
Winning depends on creating images so that candidates can become heroes.
Obama and McCain carefully constructedheroic self-images for their campaigns and the successful performance of those representations characterized not only each candidate's actual rallies, and not only their media messages but also the ground game.
Money and organization facilitate the ground game, but they do not determine it.
Emotion, images, and performance do. In other words, demography isn't destiny and political parties can't always delivery the vote.
Though an untested Senator and the underdog in his own party, Obama,through his moving performances, succeeded in casting himself as the hero and McCain the anti-hero, as the only candidate fit to lead in challenging times.
Drawing on these themes, Alexander then reveals several periods of shifting public opinion and isolates the drama of Obama's celebrity, the effect of Sarah Palin on the race, and the emerging financial crisis through an engaging narrative that conveys the immediacy and excitement of the final months of the historic 2008 presidential campaign. "Jeffrey C. Alexander's intriguing argument in The Performance of Politics, a meticulous review of the 2008 campaign, is that his fellow sociologists have overemphasized impersonal social forces at the expense of the theater of public life - the way politicians perform 'symbolically.' It's a prosaic call for a more poetic (or at least aesthetic) understanding of politics.
Ideology must connect viscerally, or it doesn't connect at all." -The New York Times Book Review"The Performance of Politics is replete with sociological insights. ... Alexander presents original theoretical arguments on the democratic struggle for power in America, and in the process provides a new explanation for Obama's historic victory. ... Alexander's argument that the democratic struggle for power is about becoming a collective representation is persuasive, so too is the way he uses this argument to examine the successful and failed performances of candidates on both theprimary and general elections. ... The most compelling part of this engaging book is Alexander's brilliant chapter on the 'Celebrity Metaphor.' Rarely have I read an analysis of a social event by a sociologist that had me so enthralled. ... This is a brilliant book.'" -William Julius Wilson, ContemporarySociology'That politics is about drama and unpredictable, surprising moments is one of the central arguments in Jeffrey Alexander's remarkable analysis of Barack Obama's presidential campaign ...
By employing the tools of cultural sociology, Alexander writes about the most recent US presidential campaign as if it were a modern form of the Iliad....
Sometimes the best sociology is that which reveals itself through brilliant analysis and storytelling.'-Times Higher Education Supplement'In an extraordinary analysis of real breadth and depth, Jeffrey Alexander challenges us to re-think Barack Obama's election as president. Reflect on the performance that takes place on a grand stage, Alexander advises, and we'll see the big picture.'-Larry J.
Sabato, author of The Year of Obama 'This is a work of dazzling brilliance and imagination. It sparkles with new insights that go well beyond standard interpretations of electoral politics. Especially to be treasured is its keen understanding of civil society and the importance of moral meaning and symbolism in public life.'-Robert Wuthnow, Princeton University'Revealing himself to be de Tocqueville's true heir, Jeffrey Alexander draws a sweeping and daring portrait of the heroes, villains, fools, and mavericks who peopled the 2008 American presidential campaign. The Performance of Politics is riveting. '-Robin Wagner-Pacifici, Swarthmore College
Information
Format: Paperback / softback
Pages: 384 pages
Publisher: Oxford University Press Inc
Publication Date: 01/05/2012
Category: Media studies
ISBN: 9780199926435
Other Formats
PDF from £20.88
EPUB from £22.31
Hardback from £28.49
Free Home Delivery
on all orders
Pick up orders
from local bookshops