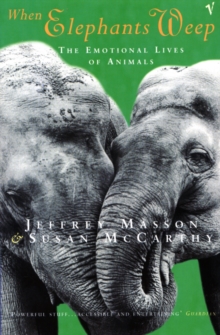 When Elephants Weep : The Emotional Lives of Animals
Paperback
Description
For more than 100 years, scientists have denied that animals experience emotions, yet this remarkable and groundbreaking book proves what animal-lovers have known to be true: wolves, tigers, giraffes, elephants and many other creatures exhibit all kinds of feelings - hope, fear, shame, love, compassion.
From Ola, the irritable whale, to Toto, the chimpanzee who nursed his owner back to health, this book collects together for the first time a vast range of case histories which show the extraordinary complexity of the animal world, and the tumult of emotions that govern it.
Information
Format: Paperback
Pages: 272 pages
Publisher: Vintage Publishing
Publication Date: 11/01/1996
Category: Ethics & moral philosophy
ISBN: 9780099478911
Free Home Delivery
on all orders
Pick up orders
from local bookshops
Reviews
Showing 1 - 1 of 1 reviews.
Review by nandadevi
16/06/2015
Librarything member 'Ape' has already done an excellent job reviewing this book, along with others. I'd only add a few things. Firstly that the premise of the book is made clear in the final words - it is an argument for more respect for animals, and for your fellow man and woman. Masson and McCarthy make a very good case (philosophically speaking) that the scientific community's denial of emotions in animals stems in large part from it's history of abusing animals in the name of (legitimate and sometimes absurd) scientific research. To deny the possibility that the animal feels pain (as some did) or feels fear or sadness makes the abuse bearable - and hence possible. Just as the definition of the 'race' you wish to persecute as 'sub-human' (which is in fact two - not one - arbitrary acts of labelling) makes the persecution of entire populations possible. Add in a dose of good-old anthropo-centrism and the innate conservatism of hard science (and the even more extreme conservatism of wannabe-hard sciences) and you have an explanation for the stance of those who deny emotions in animals.The authors argument is not so much constructed, however, as illustrated - and with devastating effect. It is true that not all of their anecdotes stand up to scrutiny, but enough hit the mark to make the point. What I particularly appreciated was their references to the work of others - most notably Goodall, Schaller and Singer. If you read this book, and then went on to look at the work of these others then you could say that you have not just dipped into this issue, but have made a serious effort to understand the issues. One of the most important questions that this book raises but does not address (and for this try Singer) is that if you accept that animals deserve respect, what form does this take in our everyday lives - how for instance should we regards factory farming? Masson and McCarthy do an excellent job of pointing the way, but if you stopped here you would have missed out on the real value of their work. Highly recommended on this basis.