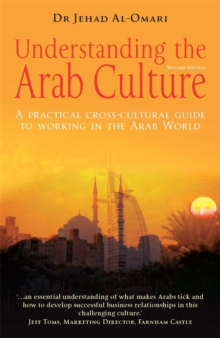 Understanding the Arab Culture, 2nd Edition : A practical cross-cultural guide to working in the Arab world
Paperback
Description
Understanding the Arab Culture is a thoroughly practical crosscultural guide to working with Arab cultures, written with theWesterner in mind.The book focuses more on the key differences than similarities, issues that Westerners will find puzzling, unusual or difficult to cope with.
It is based on years of experience of lecturing to Westerners and a long list of frequently asked questions.
It addresses Western perceptions and misconceptions of Arabs, Islam and the Arab world as well as some key Arab perceptions of the West.
Many practical tips are given on a variety of issues, from exchanging appropriate gifts to negotiating techniques. Contents: Preface; About the author; Acknowledgements; Introduction; 1.
A cross-cultural Perspective; 2. Ten cross-cultural realities; 3. The Arab culture in a generic context; 4. The business pyramid; 5. An Arab perspective; 6. First encounters with Arabs; 7. Values and attitudes; 8. Experiencing Arabia; 9. Islam: away of life; 10. Doing business; Epilogue; Recommended reading; Index.
Free Home Delivery
on all orders
Pick up orders
from local bookshops