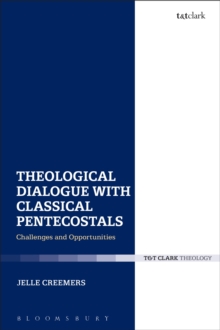 Theological Dialogue with Classical Pentecostals : Challenges and Opportunities
Paperback / softback
Description
The last two decades have witnessed the growing participation in theological dialogues of non-institutional (free church) movements.
This poses a serious challenge to 21st century ecumenism, since ecclesial realities and internal diversity of these movements impede fruitful dialogue in the classical manner.
The present volume addresses fundamental aspects of this challenge by a critical study of an exemplary case of such dialogues, the International Roman Catholic-Classical Pentecostal Dialogue (1972-2007).
This unique study builds both on primary archival sources and on earlier research on the IRCCPD. After providing an ecumenical profile of the Classical Pentecostal dialogue partner, Creemers demonstrates how fair representation of the Classical Pentecostal movement has been pursued in the course of the dialogue.
Next, he gives attention to the ecumenical method of the IRCCPD.
First, the development of a dialogue method hinging on "hard questions" is traced, which has allowed a balanced theological exchange between the dialogue partners.
Regarding theological method, it is demonstrated that both partners showed a willingness to experiment together by integrating sources of theological knowledge typically distrusted in their own traditions.
In conclusion, the analyses are integrated in an overview of challenges and opportunities for dialogue with the Classical Pentecostal movement in the context of ongoing discussions on ecumenical method.
Information
Format: Paperback / softback
Pages: 336 pages
Publisher: Bloomsbury Publishing PLC
Publication Date: 28/06/2018
Category: Pentecostal Churches
ISBN: 9780567682482
Also in the Ecclesiological Investigations series | View all