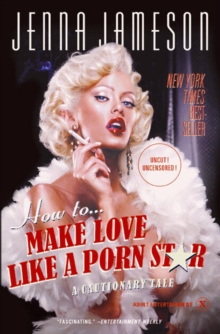 How to Make Love Like a Porn Star : A Cautionary Tale
Paperback
Description
"Captivating...a real person comes through in its page...Lively, hellacious, entertaining, sharp, feisty, and touching." -Salon.comHow to Make Love Like a Porn Star, the mega-bestselling memoir, triumphant survival story, and cautionary tale that spent over six weeks on the New York Times bestseller list and rocketed adult film icon Jenna Jameson into the mainstream spotlight, is now in paperback for the very first time.
Her unforgettable memoir is many things at once: a shocking sexual history; an insider's guide to the secret workings of the billion-dollar adult-film industry; and a gripping thriller that probes deep into Jameson's dark past.
With never-before-seen photographs from Jenna's private collection, exclusive photos taken for this book, and original cartoon strips, this memoir is an unparalleled exploration of sexual freedom.
Information
Format: Paperback
Pages: 592 pages
Publisher: HarperCollins Publishers Inc
Publication Date: 01/01/2010
Category: Biography: arts & entertainment
ISBN: 9780060539108
Free Home Delivery
on all orders
Pick up orders
from local bookshops
Reviews
Showing 1 - 2 of 2 reviews.
Review by cenneidigh
16/06/2015
This is about how great her life has become, but the underlying theme was unhappiness. I feel very sorry for her and the life choice she has made.
Review by elliepotten
16/06/2015
"When someone asks an actor, a photographer or a snowboard instructor how he or she got into the business, what they generally want to know is how to break in themselves. But in the case of my profession, what they generally want to know is what enables someone to make the decision to have sex with strangers on camera for a living."Jenna Jameson was the first porn star name I ever heard. I don't think I even knew what porn WAS at the time. I probably learned it in the school corridors during my first year of secondary school, which is where I learned quite a lot of interesting things about sex, as well as a whole host of exciting new swear words. Given that an entire generation apparently grew up knowing her name, Jenna's fame has clearly transcended the knowledge of the men who watch her. I figured her story had to be worth a read, right? (This IS an autobiography, by the way - not, as my mum thought, an actual how-to guide!)The most obvious thing to say about her book is that it's cleverly and beautifully crafted. It starts with her teenage years, including how she began stripping and her entry into porn, flips back to her childhood via an interview-style section with Jenna and her family, then hops back to the main narrative again. There are masses of full-page photos, in colour and black and white, plus diary entries, graphic memoir strips, and some clever formatting ideas (for example, a side-by-side section recounting how Jenna and her first husband met, from both their points of view). It's a big book for your bucks, coming in at nearly 600 pages, though photographs do feature highly so it's not a daunting read at all. The only thing I didn't like was the occasional bizarre reference to, for example, her vagina as a 'ding-ding', which sounds so wrong coming from someone whose JOB is basically genitalia-orientated. Then again, with so many mentions of body parts in a book like this, it makes sense to mix up the terminology occasionally, just to save it feeling too repetitive!This book threw up a lot of thought-provoking questions for me. I definitely have mixed feelings about it as a whole; although it's a ripping good read, I got to the end of the book and didn't know quite how to feel about Jenna herself. She seemed so likeable and smart, yet I didn't know whether to feel sad for her for where she ended up, or whether to admire her for working hard and doing exactly what she set out to do - make herself the biggest porn star in the world. Although I don't necessarily agree with her 100%, she does make a compelling case for her role in porn as an empowering one. She earned good money, had a lot of control over her working life, did her job professionally and worked hard to make it to the top - just like any other success story in any other field. She also, however, makes no bones about the fact that she was very lucky, and the downsides of the porn industry are clear: the companies that exploit women, the way poor management or mismatched stars can ruin a job, the cattiness of other stars towards each other, the way men become laughable figures as they leer and pay big money to be titillated. You can see why - as she reveals - so many strippers and porn stars end up preferring the company of (and relationships with) other women. Something that really bothered me was her claims that her childhood and sexual experiences had no bearing on her profession - that she chose to go into porn to pull herself AWAY from a bad relationship, drawn by the knowledge that she had a pretty face, and the irresistable lure of ready money. This perhaps sounds unhealthy enough for most people, but she also plays down not one, but THREE rapes, one of them almost fatal, one of them a date-rape in which she lost her virginity. Not only that, but she lost her mother as a child, had a distant father, and her older brother was also in a downward spiral. There are photos of the two playing with guns as children, and 'light-hearted' tales of violent pranks they used to play on neighbours and passers-by are recounted as if it was perfectly normal and just a bit of fun. Follow that with a truly crap boyfriend and falling in with the wrong crowd at the sleaziest end of the Las Vegas sliding scale, and it might seem to most people that stripping was the inevitable next step. At the same time, it WAS also a way forward for her, a leap towards being an independent earner. Buuut then you read about the path of drugs and destitution she repeatedly ended up on... Well, you can't help but wonder about the causality here, about what would have happened if her childhood had been more settled and she'd just become a teacher or a lawyer instead of veering off on the road to self-destruction. The reason porn worked for her is that she MADE it work - hundreds of others must have been exploited and destroyed just because they were less strong and were less lucky in their breaks and connections. See what I mean about how it makes you think and question everything? Not just your own assumptions and feelings, but also what might lie between the lines in Jenna's own account of her life.Perhaps if I'd read the book when it first came out, and our diminutive blonde bombshell was still in the happy place of romance and contentment that concludes her autobiography, I might feel less conflicted about it now. Sadly, recently newspaper websites seem to have exploded with fresh stories about Jameson's latest spiral of self-destruction. I think she divorced that end-of-book new husband fairly rapidly, and married and divorced another pretty quickly? New footage from earlier this year showed her drinking from bottles secreted around her house and popping pills while her kids played. This was where I REALLY started to question everything in the later parts of the book. Did she ever really learn those lessons she seemed so positive she'd mastered? Or is she one of those people who will continue to fall into bad situations - with men, with drugs, with drink - until the day she dies? I began to feel bad about reading the book at all, despite the window it offers onto a completely different world - which is, after all, one of the best things about reading an autobiography.Sadly then, in the end, it became a guilty read. It doesn't take much Googling to know that Jenna's really messed up again since the book was published, especially over the last year or two. It felt so disappointing, sad and strangely voyeuristic to be reading such a strong, hopeful and cheerful autobiography, all the while knowing that her life's fallen apart again since, and 'happily ever after' didn't last very long for her at all. At the same time, I DID really enjoy the book itself (my baggage aside); she has some wise things to say, an interesting story, and of course this is a glimpse into a world that most of us can scarcely imagine. She comes across as an endearingly goofy, funny, smart, self aware and (without the trowelled-on makeup, at least) beautiful woman, and I very much liked the Jenna in these pages, even if her decline since then gives the whole thing a bit of a sour aftertaste. If you ever stumble across a copy, it's worth a read - it's surprisingly gripping, genuinely interesting and beautifully designed - just maybe try not to overthink the 'after the happy ending' part like I did!