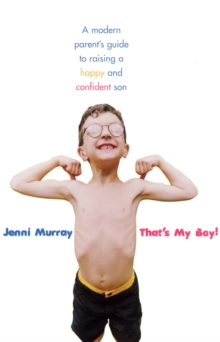 Description
This is a poignant, practical, light-hearted and celebratory look at raising boys with a strong and controversial message, asking that parents and the education system take responsibility for the 'feminisation' of boys, in much the same way as attention was paid to the 'masculinisation' of girls.
Media and government attention is now being focussed on the fact that girls are outperforming boys academically but no mention is made of what kind of husbands and fathers they will make.
With many families stretched to breaking point on the rack of mismatched expectations, boys need guidance on juggling work and family in the same way as girls are expected to; becoming domesticated as well as surviving in the jungle of accepted notions of 'masculinity'.
The vital message is that boys, like girls, should have choices and should not be forced into the stereotypical role of the male as absent father or football fan. "That's My Boy!" covers boys' lives from birth to 18 and discusses everything from how a mother deals with the shock of caring for and maintaining a member of the opposite sex, how to endure hours spent on a rugby touchline, how to read the signs that indicate a longing for physical affection and whether or not to laugh at sexist jokes they bring home.
Information
Format: Paperback
Pages: 224 pages
Publisher: Ebury Publishing
Publication Date: 03/07/2003
Category: Gender studies: men
ISBN: 9780091889647
Free Home Delivery
on all orders
Pick up orders
from local bookshops