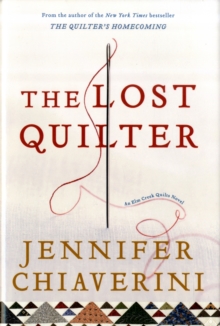 The Lost Quilter : An Elm Creek Quilts Novel
Other book format
Description
Master Quilter Sylvia Bergstrom Compson holds in her hands a quilt called by three names-Birds in the Air, after its pattern; The Runaway Quilt, after the circumstances under which it was made; and The Elm Creek Quilt, after the place to which its maker longed to return.
That quilter was called Joanna, a woman who travelled by the Underground Railroad to reach safe haven in 1859 at Elm Creek Manor.
Though Joanna's freedom was short-lived - she was forcibly returned by slave catchers to Josiah Chester's plantation in Virginia - she left behind with the Bergstrom family a most precious gift, her son.
Hans and Anneke Bergstrom, along with maiden aunt Gerda, raised the boy as their own, and the secret of his identity died with their generation.
Now it is up to Sylvia, drawing upon Gerda's diary and Joanna's quilt (returned to Sylvia by a former quilt camper and Chester descendent), to connect Joanna's past to the present of Elm Creek Manor.
Information
Format: Other book format
Pages: 336 pages
Publisher: Simon & Schuster
Publication Date: 20/07/2009
ISBN: 9781416533160
Free Home Delivery
on all orders
Pick up orders
from local bookshops
Reviews
Showing 1 - 5 of 7 reviews.
Previous | Next
Review by NovelBookworm
16/06/2015
In The Runaway Quilt by Jennifer Chiaverini, a runaway slave named Joanna was introduced to Chiaverini's readers. Joanna's bid for freedom was short lived. She was returned to a plantation in Virgina by slave catchers, leaving behind a beautiful quilt and a son. In Chiaverini's newest addition to her Elm Creek Quilts series, The Lost Quilter, we finally learn what became of Joanna. Through old letters found by the Master Quilter Sylvia Bergstrom Compson, an old diary belonging to Sylvia's aunt and the quilt itself, we can discover the legacy Joanna left behind.Chiaverini's series are a delight. Quilter or not, there is something in these books for everyone. (Okay, maybe not everyone…they are absolutely chick lit, but chick lit without gratuitous sex, bad language, questionable judgment and with a sort of refinement to them) I've been a big fan of the series since the first book; The Quilter's Apprentice and I've really enjoyed how the author keeps the series going. Some of the novels follow individual characters, some follow the cast of characters as a group and yet other novels, like The Lost Quilter use the characters and location as a jumping off point to other characters and other times. I highly recommend any of the Elm Creek Quilt Series, of course, if you're not a quilter, then just read the novels, but if you're a quilter too, you might want to check out the line of quilt project books that Chiaverini has written too. She not only uses quilts in her novels, but she also makes the quilts she writes about. That kind of authenticity is rare, and its so much fun to pick up one of her novels and see on the inside cover, artwork made up of the quilt blocks she uses in the novel.
Review by kblinn
16/06/2015
In a departure from her usual Elm Creek Quilts novels, author Jennifer Chiaverini gives us a glimpse into the life of a female slave in the years shortly before and during the early part of the Civil War. This book probably comes closer to showing how slaves were devalued by their masters than any book I have previously read. The book is told mostly from the slave, Joanna's point of view, and this works quite well. It's a good story, and I highly recommend it.
Review by busyreadin
16/06/2015
This continues the story of the Bergstrom family, told thru stories involving quilts & quilters.This one is the story of Joanna, a runaway slave who is captured and returned to her owner a few years before the Civil War. The story if very moving. It is told from Joanna's point of view. It was interesting to see history unfold thru her eyes. It certainly was a different view than that of other Civil War Stories.
Review by bearette24
16/06/2015
I was initially disappointed that this story was set in the 19th century, but it turned out to be one of my favorites in the series. The Lost Quilter tells the story of Joanna, the slave who was captured at Elm Creek in one of the earlier installments of the series.Joanna's tale is riveting. Since she is a slave, always trying to escape and avoid brutal punishment, the stakes are high and suspense is constant. Joanna is very well-developed...she felt like someone I know. While I was doing other things, I kept wondering what would happen next.So I do hope that the next quilter's book is set in contemporary times, but I enjoyed this one very much.
Review by tjsjohanna
16/06/2015
This was a satisfying addition to the Elm Creek Quilts collection of stories. Ms. Chiaverini goes back in time to tell the story of a slave in they years just prior to the Civil War. Joanna's longing for freedom, and willingness to risk everything to achieve it was inspiring and even thrilling at times. One thing that really impressed me while reading this novel is how destructive slavery is to everyone involved. Even potentially good people are corrupted by the very idea that anything they want to do to another person can be done with impunity. And having to live with such capriciousness must be hideous. While this book is by no means an accurate representation of the horrors of slavery, I think Ms. Chiaverini made this point very well.