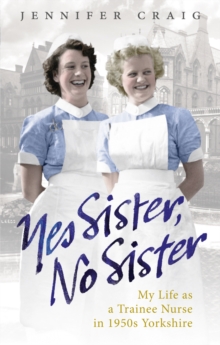 Yes Sister, No Sister : My Life as a Trainee Nurse in 1950s Yorkshire
Paperback
Description
'What is your name?' she asks, staring at me. 'Jennifer Ross.''Jennifer Ross, Sister. Well, Nurse Ross, you are dressed in the uniform of a nurse from the Leeds General Infirmary.
Such a uniform is not worn with a cardigan. Take it off at once.''Yes Sister.' I can feel my face turn red. A trainee nurse in the 1950s had a lot to bear. In Jennifer Craig's enchanting memoir, we meet these warm-hearted yet naive young girls as they get to grips with strict discipline, long hours and bodily fluids.
But we also see the camaraderie that develops in evening study sessions, sneaked trips to the cinema and mischievous escapades with the young trainee doctors.
The harsh conditions prove too much for some girls, but the opportunity to help her patients in their time of need is too much of a pull for Jenny.
As she commits to her vocation and knuckles down to her exams, she is determined that when she reaches the heights of Ward Sister herself she will not become the frightening matron that struck fear into her student heart ... Rich in period detail, and told with a good dose of Yorkshire humour, Yes Sister, No Sister is a life-affirming true story of a life long past.
Information
Format: Paperback
Pages: 352 pages
Publisher: Ebury Publishing
Publication Date: 01/09/2010
Category: Memoirs
ISBN: 9780091937959
Free Home Delivery
on all orders
Pick up orders
from local bookshops
Reviews
Showing 1 - 2 of 2 reviews.
Review by birdsam0610
16/06/2015
Ever since I read the Sue Barton: Nurse books as a girl, I've been interested in reading books about nursing, particularly in the 'olden' days when there were Sisters and Matrons and nurses wore caps. (I'm sure some of my nurse friends would be horrified with my thoughts). This book appeared on Kobo and I had to have it. It tells the story of Jennifer's training as a nurse at the Leeds General Infirmary in the 1950s – the highs, the lows and the friends. This book is very funny in places (eg. climbing up a rope ladder after being locked out of the nurses' home) and very sad in others (eg. death of a baby, a colleague being diagnosed with schizophrenia).It also highlights the differences in nursing today and back then – in Jennifer's days, nurses did some of the cooking for the patients, cleaned the ward (including dusting) and were expected to be subservient to the ward sister and Matron. These days, nurses don't cook generally (that's why there's kitchen staff) or clean (orderlies and cleaners are employed) and everyone's pretty much on first name terms. I'm not a nurse, but being called 'Sister' in my hospital is a term that you're one of the gang, rather than a sign of authority.It was interesting to read that about 30% of the other students Jennifer (or Jenny) started with actually completed the course. Nursing seems like hard work – long day shifts, split shifts, night shifts – and then study as well. There was bullying of nurses and restrictions on dress, code of conduct etc. It was heartening though to read about the strong friendships made during her time at LGI.Easy to read and well written, this is a good read for an insight into those times. Although it wraps up rather quickly and abruptly, it is still an interesting one.
Review by reader68
16/06/2015
Excellent memoir. Takes her from first day as a trainee up to her experience as a ward Sister. She then emigrates to Canada. 2010. Most of her training and work experience take place at Leeds General Infirmary.