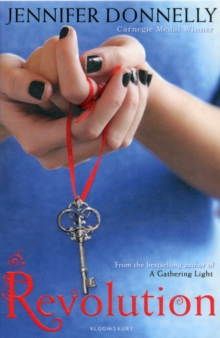 Description
Andi lives in New York and is dealing with the emotional turmoil of her younger brother's accidental death.
Alex lives in Paris and is a companion to the dauphin, the young son of Marie-Antoinette and Louis XVI, during the violent days of the French Revolution.
When Andi is sent to Paris to get her out of the trouble she's so easily enveloped by in New York, their two stories collide, and Andi finds a way to reconcile herself not only to her past but also to her future.
This is a heart-wrenchingly beautiful, evocative portrait of lives torn apart by grief and mended by love.
Information
Format: Paperback
Pages: 496 pages
Publisher: Bloomsbury Publishing PLC
Publication Date: 01/10/2011
Category: Historical
ISBN: 9781408801512
Free Home Delivery
on all orders
Pick up orders
from local bookshops
Reviews
Showing 1 - 2 of 2 reviews.
Review by JenMDB
16/06/2015
Nice idea mixing contemporary teen with French Revolution but the 1795 diary doesn't ring true at all, and the climax is weak and too long coming. This is being introduced as a Grade 10 Lit Circle text in a local school and I don't expect it to be a hit.
Review by bookish92
16/06/2015
This book was a solid 5 star book for so much of it. I loved it so much, and then towards the end it got, well frankly it got a little weird.<br/><br/>This review will contain some spoilers and some ranting, so if you don't want to know what happens, then please don't read on from here.<br/><br/>Initial reaction;<br/>As I started reading this book I had high hopes, the idea of the story sounded really interesting, and it had a lot of history in it as well with Alex's journal. To begin with the story really pulls you in, the characters are brilliant, and the storyline is interesting and keeps you hooked. It had so much going for it, especially the fact that I really loved the main character, and all of the things she was dealing with, I think her character was written amazingly well.<br/>I really loved how Alex's journal was interwoven into Andi's story, and how they had a lot in common as well as Andi developing a strong connection with Alex. The journal parts were written just as well as the modern day part of the story, and I loved how it went into some depth on the history of the revolution, all from Alex's unique point of view, all of that was amazing.<br/><SPOILER ALERT><br/>So why did I end up giving it only 4 stars? Well it all has to do with the last few chapters of the story, when all of a sudden Andi is in 18th century France, during the French Revolution. Now I'm all for twists in stories, but quite frankly, I found this one to be incredibly strange, and wholly unessential to the plot line. I mean yes Andi got to meet Amande which helped her with her project, and uncovering this huge mystery surrounding his birth and life in general, and in some weird way it helped her realize a lot about herself as well, but I just found it strange that all of a sudden she was in 18th century France, sharing her iPod with Amande! To me this whole plot line just seemed crazy.<br/>Then once she is back in the 21st century again, and we find out she was just dreaming after being knocked out by a blow to the head, I was getting hopeful again, thinking the story would pick back up and I could just gloss over that whole crazy dream sequence, however things didn't pick up, unless by pick up you define it as picking up the pace. The rest of the novel felt hurried, it was just a quick glossing over of what happened next, covering big points like her discovering the true identity of Amande, her relationship with her father crumbling even more, and her mother getting out of the hospital, in one quick summary. I just felt like the whole thing was incredibly hurried. One minute she is planning on killing herself and then one quick drug/knock on the head induced trip to revolutionary France, and what do you know, she's cured.<br/><br/>Overall;<br/>I loved this book, I know my slightly ranting review above may lead you to believe otherwise, but I truly did love this book, or at least a good 90% of it. I wish the dream thing had been left out, and that space had been used to better tie off the story, but overall I did really enjoy the book, and so it gets a good 4 out of 5.