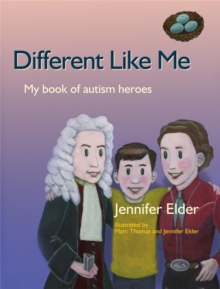 Different Like Me : My Book of Autism Heroes
Hardback
Description
Different Like Me introduces children aged 8 to 12 years to famous, inspirational figures from the world of science, art, math, literature, philosophy and comedy.Eight-year-old Quinn, a young boy with Asperger's Syndrome, tells young readers about the achievements and characteristics of his autism heroes, from Albert Einstein, Dian Fossey and Wassily Kandinsky to Lewis Carroll, Benjamin Banneker and Julia Bowman Robinson, among others.
All excel in different fields, but are united by the fact that they often found it difficult to fit in-just like Quinn.Fully illustrated in colour and written in child-friendly language, this book will be a wonderful resource for children, particularly children with autism, their parents, teachers, carers and siblings.
Information
Format: Hardback
Pages: 48 pages
Publisher: Jessica Kingsley Publishers
Publication Date: 16/12/2005
ISBN: 9781843108153
Free Home Delivery
on all orders
Pick up orders
from local bookshops
Reviews
Showing 1 - 3 of 3 reviews.
Review by kaelirenee
16/06/2015
This book examines the lives of Albert Einstein, Lewis Carroll, Temple Grandin, and other very successful people in history who are either known or strongly suspected of having an autism spectrum disorder. The title is a bit misleading (as is much of the text), because many of the people included are believed to have had Asperger's Syndrome or some other PDD, not necessarily autism. However, that is beside the point. This book is an excellent early reader chapter book, especially for children who have an ASD or who have a sibling or parent with one. It gives them positive role models and something to aspire to. Furthermore, it can be very useful to have teachers read if they are going to have a child with an ASD in their classroom. There is still a misperception that a child with autism is doomed to a life of savantism, institutionalism, and repeating "Wapner starts at 11. Gotta watch Wapner." This is a great resource for those with high-functioning ASDs.
Review by Juliekessler1
16/06/2015
When I opened this book, I was not expecting what I found. Instead of the pages flowing in order with each other, each page is about one famous person who had Autism. The page next to that is a picture of that person. I think this would be really cool to children because it is very unique with the way it is set up. It is not like a usual book. The main idea is to tell the reader about famous people who had Autism and how they still went about their lives and were very successful. I think this book was written to show children that it is okay to have a disorder and they want to show that to students by telling them about how even famous people had disorders. There was not too much text per each "hero" and the pictures were almost like painted cartoons. I think students would find this book engaging and even somewhat fun because of how different it is. I truly enjoyed this book. This book is definitely written for the reading ability of a fourth grader and older.
Review by ajfurman
16/06/2015
Quinn is a boy who feels like he does not fit in. Through this book, Quinn learns about people from history that felt just like Quinn because they have the same struggles as him. I appreciate this book because it is meant to be read by someone with autism. It could also be read to find out about some of the struggles with great figures from history, but I feel it is a great way to help with the identity of a child with autism. It can be very frustrating knowing that you are different, but not knowing how to change who you are. This book shows that it is okay to be who you are and that it may one day end you up in the history books. Showing that having autism does not limit you from showing the world your strengths is an awesome an positive message and has a good focus on ability rather than disability. That is the big picture of this book.
Also by Jennifer Elder