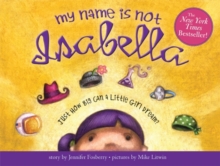 My Name is Not Isabella
Hardback
Description
MY NAME IS NOT ISABELLA explores the some of the amazing women who changed history.
This heartwarming tale empowers young girls to realize their true capabilities while inspiring them to let their own personalities shine. With strong gift potential: inspiring message that mothers, grandmothers, aunts, sisters, and friends will want to pass along to little girls in their lives.
Information
Format: Hardback
Pages: 32 pages, chiefly col. Illustrations
Publisher: Sourcebooks, Inc
Publication Date: 01/09/2010
Category: Fiction & true stories
ISBN: 9781402243950
Free Home Delivery
on all orders
Pick up orders
from local bookshops
Reviews
Showing 1 - 5 of 10 reviews.
Previous | Next
Review by mom2childs
16/06/2015
Sally Ride, the first woman astronaut in spaceAnnie Oakley, American sharpshooter and circus shooterRosa Parks, African-American civil rights activistMarie Curie, one of the most famous female scientistsElizabeth Blackwell, the first woman to graduate medical school, the first woman doctorMommy, one of the loves of little Isabella's lifeThis beautifully illustrated gold and purple children's book provides 5 different history lessons for little girls – and little boys who will listen. Using rhyme, a funny story, and a very adventurous little girl, whose name is only Isabella when she's not being a woman of action, Jennifer Fosberry is able to tell the story of 5 women in American history who have changed lives. And of millions of women whose job is to encourage their children, daily.In one day Isabella is able to morph into these women, and remind us, the grown-folks, of women who have paved paths, and teach children, both boys and girls, about the how a little girl's dreams can turn that little girl into a game-changing inspiration for millions of other little girls. Isabella also teaches adults, who may feel like it's too late to make a change, that's there's always time to follow your dream.I love this book.Reviewed for Arms of a Sister
Review by Angeleyes1382
16/06/2015
Isabella has quite the imagination. This book is a great way to introduce your child or your students to great women in history. The message tells little girls that they can do anything they put their mind to. My students enjoyed getting to know the women in history and I learned some new things myself.
Review by Kourtlin.Harrison
16/06/2015
Summary: This book is about a girl named Isabella that continually says she is a particular woman from history. In one part she says her name is Rosa, "the bravest activist who every was". She continues to change who she is throughout the day until she returns to herself when she goes to bed. Personal Reflection: I can relate to this book because when I learn about a new person, I always wonder what life was like when they were around. This curiosity is evident in children and this book shows that history can be involved in everyday life. This book brings history to life and makes it more relatable for children.Classroom Extension:1. The students could take one person from the story and find out more about their lives. They could find how they influence their lives today and the interesting things about their life. 2. The students would choose one person from history that they would want to be and find out as much information they possibly could. The teacher could have a day where they students come dressed as their historical figure and tell the class about their life.
Review by lquilter
16/06/2015
Very timely book for us, since my 3yo repeatedly insists, "My name is --" and then produces an entire different persona, different name, different age, etc. She's got several of these personas. This book features "Isabella" who pretends to be "Rosa" (Parks), "Sally" (Ride), "Marie" (Curie), and a bunch of other famous women from history. So as soon as we read it, "Isabella" joined my daughter's cast of personas.
Review by jkk011
16/06/2015
This book is good when you teaching character traits because Isabella is different people throughout the book.