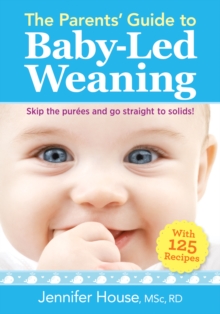 Parents' Guide to Baby-Led Weaning: With 125 Recipes
Paperback / softback
Description
Answers all the 'whys' and 'hows' when it comes to baby-led weaning.
Baby-led weaning means starting your baby on real table food from the start (at approximately 6 months old depending on your baby) and skipping the puree stage completely.
This means offering baby a selection of nutritious finger foods so they feel like they're joining in on family meals.
Baby weaning is popular with second and third children, because they're so keen to mimic their older siblings.
Baby-led weaning supports baby's motor development skills at an earlier rate, it can lead to healthier eating habits and weights and very often finger foods can be more nutritious than purees. And the whole process is just so much easier and fun for parents and baby alike!
Providing all the information parents will need, Jennifer addresses all the questions hesitant parents may have: from choking concerns, when to begin your baby on the programme, ensuring your baby is getting the right food and nutrients and dealing with the frustration of defending baby-led weaning to family and friends.
Plus there are 125 nutritious and delicious recipes that can be enjoyed by baby and the entire family. All the information a parents needs is right here in this indispensable how-to-guide: * Tips for getting started with baby-led weaning, including signs of readiness including some great first finger foods like sweet potatoes and egg yolk; * Focus on safe foods and progressing food size as your baby develops; * Dealing with allergies and vegetarian lifestyles; * Basics of offering iron rich foods and modifying family meals.
Information
Format: Paperback / softback
Pages: 192 pages
Publisher: Robert Rose Inc
Publication Date: 01/09/2017
Category: Child care & upbringing
ISBN: 9780778805793
Free Home Delivery
on all orders
Pick up orders
from local bookshops