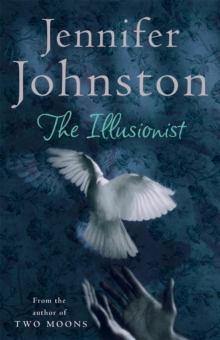 The Illusionist
Paperback
Description
When Stella first meets Martyn, he's just a stranger on a train.
She knows nothing at all about him. But very quickly she is won over by his charm and breathtaking illusions, and when he asks her to marry him, she agrees.
However, as they begin their life together, Stella starts to feel uneasy.
What exactly is the show-stopping illusion he claims to be working on, locked away in that room?
Who are those men that visit the house at strange hours? And why are her questions never answered? As Stella realises that she barely knows the man she married, her thoughts turn to escape.
Information
Format: Paperback
Pages: 288 pages
Publisher: Headline Publishing Group
Publication Date: 01/01/2007
ISBN: 9780755334780
Other Formats
Paperback from £7.09
EPUB from £5.99
Free Home Delivery
on all orders
Pick up orders
from local bookshops
Reviews
Showing 1 - 1 of 1 reviews.
Review by gaskella
16/06/2015
Jennifer Johnston is Dublin-born, and won the Whitbread prize for her novel The Old Jest in 1979; The Illusionist was published in 1995. It tells the story of Stella and Martyn who meet on a train, fall in love, get married, have a child, fall out of love, then Martyn dies.The story starts after Martyn's funeral. Robin, their daughter, who had worshipped her father is staying with her mother. She's never forgiven her mother for walking out on them, and Stella wishes she could convince her of why she had to do it. "I always used to wonder where he came from. Who begat your father." "Curiosity killed the cat." "I've often wondered if he told you things that he never told me. Or took you somewhere and said … I used to play in this street … I used to walk on this stony beach. Did he ever speak his geography to you? Or his history? Who slapped him when he was a child? Who sang songs to him? What were the songs they sang?" "It's a bit late to be asking these questions now. Why didn't you ask him when he was alive?" "I did. Over and over again. He said it didn't matter."The novel then alternates between the past and present and we hear Stella's story of their relationship; how she was swept off her feet by Martyn the illusionist, never a simple magician or conjuror. He's a bit secretive – she knows so little about him, but being in love that doesn't matter. However, over the years, she's still no wiser about what he does in his locked room where he and his friends perfect their illusions; she doesn't know what he does at work either, or if he has any family for that matter. Martyn hates questions, he sees it as interfering but doesn't believe that could also apply to him; he is increasingly controlling of Stella and her aspirations to become a writer.I was hooked from the start. The growing claustrophobia of the relationship and gradual reveal of this rickety marriage, Martyn's growing control freakery and Stella's realisation of what she has got herself into are skillfully handled. Martyn's grand spectacles involve doves, and those caged and passive birds echo Stella's plight, particularly as she's terrified of them indoors – she comes to wish she and they were free. There are some beautifully reflective passages amongst all the dialogue. I will be searching out more of this skilled writer's novels.