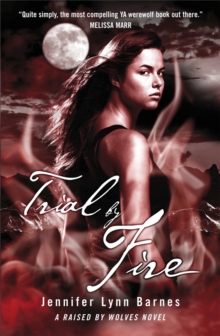 Description
At seventeen, Bryn is has the usual schoolgirl worries: a new boyfriend, a new school and a new home.
But she has one major concern that her friends don't have: she is an alpha - a human girl in charge of her own werewolf pack.
When Bryn and her closest friends, Dev and Lake, broke from the werewolf Callum's pack, it had all felt right.
Together with Chase, Bryn's new love, they had rescued some newly made female werewolves from a despicable master and established their own pack, with Bryn as leader.
Yet Bryn has always resented the rules of Pack life - the constant bowing to authority, the submission to the alpha. And she is determined to live differently, to run this pack openly and justly.
Then one night, a badly beaten werewolf shows up on her territory.
He needs help, sanctuary, care. But taking him in could violate inter-pack rules, and no one knows better than Bryn the costs of challenging those rules.
Obedience is law in Pack life, but Bryn is going to break the rules, again.
Information
Format: Paperback
Pages: 368 pages
Publisher: Hachette Children's Group
Publication Date: 26/05/2011
Category: Horror & ghost
ISBN: 9780857380784
Free Home Delivery
on all orders
Pick up orders
from local bookshops
Reviews
Showing 1 - 3 of 3 reviews.
Review by wyvernfriend
16/06/2015
There were some places that this book really worked for me and there were some places that it left me wondering what was going on and why. But Lucas, that shocked me. How it was dealt with was right but man, was it hard.Lucas is a young werewolf who turns up at the Cedar Ridge pack battered and bruised and from another pack. If Bryn claims him she will be open herself to war, she also has to deal with a family or coven of psychics who have turned up and are also laying claim to Lucas. Throughout all this she's learning what it means to be an alpha, particularly an alpha who isn't actually a werewolf, and go to school.Complicated and a bit messy occasionally but overall very, very interesting. Looking forward to the next one.
Review by camibrite
16/06/2015
This was a good sequel that started very slowly. I wasn't really into the story until a third or halfway through, and then it became a very fast read with a satisfying ending and hope for an interesting third book.
Review by Cynical_Ames
16/06/2015
I'm disappointed by this sequel. I don't feel I should be. Objectively speaking, the plot is a good one. It's based on an ethical dilemma with no obvious answer and where gaining advice is problematic. The struggle, Bryn's journey as alpha is what this is about but I just couldn't seem to care. It was slow for the most part and I became bored.<br/><br/>Despite Lucas's situation being a sympathetic one, I didn't like him. I didn't necessarily want to see him dead but I needed a reason other than his ultimate death to care about Bryn helping him at the possible detriment of her pack.<br/><br/>I'm also disappointed that Barnes didn't use this sequel as an opportunity to bring depth to certain characters, Chase in particular. He was the main reason I didn't give <i>Raised By Wolves</i> a higher rating, simply because he was an unknown. We knew nothing about him and I was hoping his story would unfold here. It didn't. I know little time has passed between books and Bryn is busy caring for the pack but they still spend time together, mostly in silence which was maddening. <br/><br/>The part of the book that I found intriguing was the ending simply because it meant Bryn was forced to make a life and death decision, and she chose death. It was the right choice but it was a painful one which resulted in the loss of a valuable pack member. <br/><br/>Callum's warning in the form of a horse carving meant nothing until the end so I understood Bryn's frustration with him even though his hands were tied by fate and politics to do more than he did to help.<br/><br/>I am glad the Bryn has acknowledged the need to one day become wolf because even though she is strong as human, she's vulnerable, too.<br/><br/>Overall, I believe the writing lets this book down. <i>Trial By Fire</i> could've easily been a five star read if the writing had been tighter, faster paced with more character development. I'm not eager to read the next book but if my library order it I probably will in the vain hope these problems will be addressed.
Also in the Raised by Wolves Series series