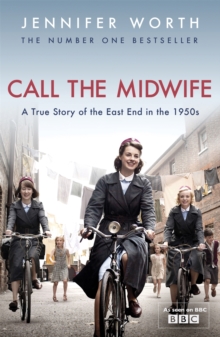 Call The Midwife : A True Story Of The East End In The 1950s
Paperback
Description
Jennifer Worth's tales of being a midwife in 1950s London, now a major BBC TV series.Jennifer Worth came from a sheltered background when she became a midwife in the Docklands in the 1950s.
The conditions in which many women gave birth just half a century ago were horrifying, not only because of their grimly impoverished surroundings, but also because of what they were expected to endure. But while Jennifer witnessed brutality and tragedy, she also met with amazing kindness and understanding, tempered by a great deal of Cockney humour. She also earned the confidences of some whose lives were truly stranger, more poignant and more terrifying than could ever be recounted in fiction.
Attached to an order of nuns who had been working in the slums since the 1870s, Jennifer tells the story not only of the women she treated, but also of the community of nuns (including one who was accused of stealing jewels from Hatton Garden) and the camaraderie of the midwives with whom she trained.
Funny, disturbing and incredibly moving, Jennifer's stories bring to life the colourful world of the East End in the 1950s.
Information
Format: Paperback
Pages: 368 pages
Publisher: Orion Publishing Co
Publication Date: 01/01/2012
Category: Memoirs
ISBN: 9780753827871
Free Home Delivery
on all orders
Pick up orders
from local bookshops
Reviews
Showing 1 - 2 of 2 reviews.
Review by Citizenjoyce
16/06/2015
From the cover of my edition I thought this would be kind of a fluffy British comedy with a little childbirth thrown in. How pleased I am that I was wrong. Jennifer Worth writes a good history of East Enders in the 1950's that includes discussion of poverty in its various forms from the loving families and supportive community of Poplar to the squalor and hopelessness of the condemned bombed out buildings inhabited by prostitutes, pimps and a few left behind family people in Stepney. She demonstrates the activities of a midwife of that time by describing the care of various characters, has a good side story about life in a workhouse, fleshes out the character of a grouchy old midwife-nun and describes horrible odors in a way that makes this reader grimace. As important as Worth's historical accuracy is her emotional accuracy as she confronts people living in poverty and grows from her natural middle class revulsion to an attitude of acceptance. Less successful, to me, was the accommodation she made with religion, but I guess that was a normal outgrowth of the respect for the hard working nuns who trained her. For linguists there's an addendum that describes the difficulties of writing the Cockney dialect. PBS has a good mini-series about the book that does fluff it up and tone down some of Worth's grittiness, and in the interest of not needing subtitles, leaves out the dialect Worth so lovingly describes.
Review by lozbeth1
16/06/2015
Fascinating memoirs of a 1950s midwife. Heartwarming characters, as well as discussion of medical techniques, this is a page turner from start to finish. My only criticism is that it wasn't longer!