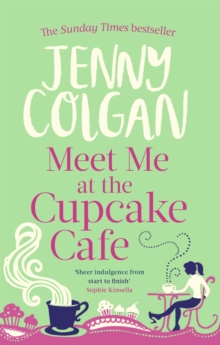 Meet Me At The Cupcake Cafe
Paperback
Description
Come and meet Issy Randall, proud owner of The Cupcake Cafe.Issy Randall can bake.
No, more than that - Issy can create stunning, mouth-wateringly divine cakes.
After a childhood spent in her beloved Grampa Joe's bakery, she has undoubtedly inherited his talent.When she's made redundant from her safe but dull City job, Issy decides to seize the moment.
Armed with recipes from Grampa, and with her best friends and local bank manager fighting her corner, The Cupcake Cafe opens its doors.
But Issy has absolutely no idea what she's let herself in for.
It will take all her courage - and confectionery - to avert disaster . . .
Information
Format: Paperback
Pages: 496 pages
Publisher: Little, Brown Book Group
Publication Date: 01/04/2011
ISBN: 9780751544497
Free Home Delivery
on all orders
Pick up orders
from local bookshops
Reviews
Showing 1 - 5 of 9 reviews.
Previous | Next
Review by nicx27
16/06/2015
I loved this book! It's the story of Issy Randall, who is made redundant from her city job. She's a fantastic baker, just like her grandfather before her, who is her inspiration, and so she decides to open a cupcake cafe with her redundancy money.This is such a lovely book. It fits in with all those dreams we all have of opening our own little business, and I was rooting for Issy all along to succeed, to dump her useless, preening boyfriend and get on with making her life what she wanted it to be.A lot of the chapters had some really lovely sounding recipes at the beginning and I'm going to try some of them for myself. I thought this book was well-written with some frivolities, and some serious parts. I raced through it and enjoyed every minute I spent reading it. I understand there will be a sequel at Christmas and I can't wait to get my hands on it. Fantastic!
Review by mrn945
16/06/2015
Light and frothy, perfect for the summer or a head-cold (which is what I've been suffering from). Who else gets a head-cold in the middle of summer??In any case, this was a fun novel, and it included a slew of really great sounding recipes! The novel is set in London, where a thirty-year-old women has realized what we all realize at one point. We're getting older and unhappy with our safe course. Issy has a boyfriend she likes, but who doesn't like her. She has an ok job, but it doesn't make her happy. Her mother is distant, her grandfather is sick, and her friends are all settling down. When she gets laid off in a crap economy with no job prospects, she takes a crazy chance and follows her passion - making cupcakes!Opening a cupcake cafe may seem a little nuts, and maybe it is, but she's so sweet and passionate for baking that you cannot help but be swept up and want her to win. Naturally, there are a few bumps along the road. Should she go back to the jerk boyfriend or give a new guy a chance? How will she run this cafe without her grandpa's guidance? Can she settle into the community?Issy is a sweet character. She's so innocent, even though, at times, you wish she should could see the true character of her jerk boyfriend. On the other hand, I think most young women have had a relationship like this at some point, so it's not that terrible a flaw. The supporting cast adds a great comedic element, and I liked that none of the characters felt too...typical. They were quirky and adorable!
Review by TheGoldenPen
16/06/2015
To Issy Randall baking was in her genes; it was in her blood. Growing up in Grandpa Joe's Bakery helped. Issy would sit beside Grandpa Joe as he baked his bread and iced each bun with the utmost dedication. "Bread is the Staff of Life!" he'd often say to Issy. Fast forward twenty odd years or so when Issy is thirty-one; she now lives with her roommate Helena, a nurse in London. She often visits Grandpa Joe in the Nursing home and he promised to write down all his recipes for Issy. Issy loved to bake cupcakes; she would turn up at work with a Tupperware box full of cupcakes much to her colleagues delight. In a word, Issy Randall can create stunning, mouth-watering cupcakes that are lighter than air...she doesn't even measure her ingredients but waltzes around the kitchen, throwing ingredients into her bowl and whizzing it with her electric mixer. After being made redundant from her office job at Stoke Newington Municipal office and dismissed by her boss and lover, Graeme, Issy became depressed. Encouraged by her roommate Helena, Issy decided to open up her very own Cupcake Cafe. " How hard could it be?" she thought to herself. Opening her own Cupcake Cafe would show that no good lover of hers a thing or two about her determination and skills. She found a nice little shop on Pear Tree Court that was on sale which she made an investment on with her redundancy money from her admin job, and turned it into the business of her dreams. Nothing could be easier than opening your own cafe, right? What's there to do but bung some cake in the oven, feed a few customers and reap the profits? Wrong. Issy didn't count on the gazillion forms and applications she had to fill and then there were the builders to contend with the bank managers, the auditors and the cantankerous old snobbish ladies from the cooperative who confronted Issy about her baking junk and stealing their customers; but Issy Randall was determined and she met each obstacle head on! The Cupcake Cafe opened for business and thanks to Pearl, a recently unemployed single mother whom Issy met at the Resettlement courses meeting held on Oxford Street, London, Issy and Pearl turned the Cafe into a warm and cosy little place to sit, enjoy a sweet morsel , a good cup of coffee and chat away whilst watching the world go by. But Issy didn't know what was behind the corner threatening to shut up Shoppe. I fell in love with the book from the start and couldn't put it down. I, too, identified with Issy, being a home baker myself. I envisioned the role of Issy being portrayed by Anne Hathaway should it ever become a movie. The author throws in many delightful recipes throughout the book and delights her audience with tiny morsels of information of baking. The characters are very true to life and the reader can identify with them. I fell in love with Grandpa Joe and cried my eyes out when he passed away! Another character that is strange but endearing is the Ironmonger who strangely creeps behind the shadows under certain scenes. He is a dark but very real and human character which the author slowly reveals to the audience towards the end. Meet Me at the Cupcake Cafe is the type of book a person can read many times in their lives and never get bored with it. It is a light and pleasant read. Like a decadent chocolate cupcake, this Novel will tantalize anyone's taste buds. The author does have the habit of overextending her fondness of the word 'had' throughout the book which I found annoying; other than this, I should say, this is a tastefully good read. I praise the author for a great piece of fiction.
Review by elliepotten
16/06/2015
This is a sweet novel (in every sense) about Issy, a baker's granddaughter who sets out to find her niche in life when she's made redundant from her job and ditched by her boyfriend-slash-boss. As you may have guessed from the title, she takes the plunge and uses her family-bred talent to open a Cupcake Cafe in a quaint little corner of London. Along the way she befriends a ragtag bunch of feisty women and local eccentrics, fights back against the people who want her to fail, falls for distracted business bank geek Austin, and makes her ailing grandfather very, very proud... It's a lovely book, beautifully designed, with a gorgeous cover, a healthy smattering of delicious-sounding cupcake recipes, and a few other little baking-related extras - highly recommended for chick lit fans, food lovers and any woman looking for a smart, uplifting and rather yummy summer read.<b>Favourite part:</b> Issy's birthday party. The description of pretty little Pear Tree Court, the tree strewn with fairy lights, the square filled with friends old and new, music, romance, cupcakes and wine, reminded me a tiny bit of Armand's birthday in <i>Chocolat</i>. Lovely.<b>Least favourite part:</b> It all seemed a little too smooth at times. Speaking as a business owner, I find it hard to believe that within months of opening a cafe, in a recession, Issy would not only have enough money to hire two full-time members of staff, but also have money to throw about for events AND be considering expanding within the year? Maybe in London, I guess...
Review by super_nicola
16/06/2015
Jenny Colgan virgin so i picked this up expecting it to be a bit wishy washy. Wow was i wrong.This book not only shares the trials of family life, lovers, friendships. It also gives you amazing baking reciepes at the start of every chapter. I am now a Jenny Colgan fan. Please read this book if you are not on a diet because it makes your mouth water.