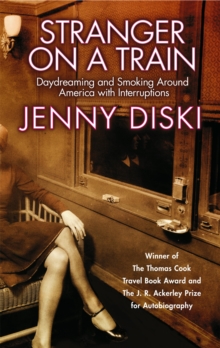 Stranger on a Train : Daydreaming and Smoking Around America
Paperback
Description
In spite of the fact that her idea of travel is to stay home with the phone off the hook, Jenny Diski takes a trip around the perimeter of the USA by train.
Somewhat reluctantly she meets all kinds of characters, all bursting with stories to tell and finds herself brooding about the marvellously familiar landscape of America, half-known already through film and television.
Like the pulse of the train over the rails, the theme of the dying pleasures of smoking thrums through the book, along with reflections on the condition of solitude and the nature of friendship and memories triggered by her past times in psychiatric hospitals.
Cutting between her troubled teenaged years and contemporary America, the journey becomes a study of strangers, strangeness and estrangement - from oneself, as well as from the world.
Information
Format: Paperback
Pages: 288 pages
Publisher: Little, Brown Book Group
Publication Date: 15/01/2004
Category: Biography: general
ISBN: 9781860499951
Free Home Delivery
on all orders
Pick up orders
from local bookshops
Reviews
Showing 1 - 5 of 5 reviews.
Review by these_fragments
16/06/2015
Brilliant. The best part is that it actually follows the format of any conventional travel book (conversations with quirky locals) - it's just set in the US...
Review by Aberjed23
16/06/2015
This is a wonderfully-written book. This is the sort of book that you want to lend to friends; you should, however, choose your friends wisely as they might not wish to return it.
Review by phoebesmum
16/06/2015
Author Jenny Diski, for reasons best known to herself, decides to tour the circumference of America (or more or less; there's a big gap in the west coast) by train. But this isn't a travel book; it's mainly an account of the people she meets on these trains – mostly in the smoking carriages, and they're mostly people the rest of us would go out of our way to avoid – partly a reflection on the train service itself, where delays of up to half a day are not only not impossible but are almost expected, and, here and there, an introspective account of her early, troubled and abuse-ridden years. I would actually have preferred a travel book. My mistake.
Review by Eyejaybee
16/06/2015
As a rule I love reading books about train journeys. I have even managed to put up with Paul Theroux's ceaseless and venomous moaning (about anything … in fact, about everything) in his accounts of the various railway odysseys that he has undertaken. Friends even joke about whether my books about train journeys have dust anoraks instead of jackets.I was, therefore, very pleased to find a copy of Jenny Diski's account of a journey by train around the edge of America, and even deferred starting it a couple of times so as to heighten the gratification. That may have proved a mistake.Certainly her accounts of the actual journey were certainly interesting and enjoyable enough, but they were interspersed with a chaotic selection of memoirs of earlier stages of her life when she had been experiencing differing degrees of mental fragility. While many of these episodes were fascinating in themselves, I found the overall melange a little too overpowering, and the increasing frequency with which she took us back to yet another account of her grapple against neurosis came close to triggering some episodes of my own.I was intrigued, however, by her account of the difficulties placed upon any rail traveller who smokes. My own smoking career is conspicuous by its sheer minimality: a few crafty gaspers when I was fourteen (that led to prodigious hacking, wheezing and shifting of phlegm, two or three drags on soggy joints as an undergraduate, and the occasional very noxious cigar at formal dinners nearly thirty years ago. I am, therefore, ill-equipped to understand the torment that Diski must have experienced while travelling on Amtrak as she seems to have been a smoker on an almost industrial scale. She writes with feeling about the stress of not being able to smoke, though I would have been interested to learn what she felt when she did smoke after an enforced break.I think that the book might have been stronger if it had been about a hundred pages shorter, and with rather less of the psychiatric memoir, though I recognise that that might just be a reflection of my own mental fragility expressed as squeamishness.
Review by Davida.Chazan
16/06/2015
How wonderful is this book? Diski's travel across the USA and her experiences with being a smoker were just perfect - and made even more fun to read since I read it on a train myself. Highly recommended!