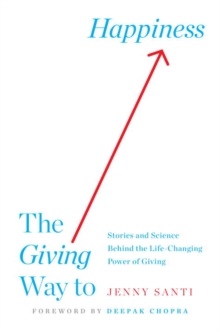 The Giving Way to Happiness : Stories and Science Behind the Life-Changing Power of Giving
Hardback
Description
Jenny Santi, a philanthropy advisor to some of the world's wealthiest philanthropists, reveals the surprising truth about how giving can help those who give just as much as those who receive.
Included in the book are inspiring personal stories of generosity by Goldie Hawn, Nobel Peace Prize Winner Muhammad Yunus, amd supermodel Christy Turlington-Burns, among many others. In The Giving Way to Happiness, Jenny Santi overturns conventional thinking about what it takes to be happy by revealing how people find purpose and joy in giving.
This book is filled with inspiring stories of generosity told by Goldie Hawn, Nobel Peace Prize winner Muhammad Yunus, and supermodel Christy Turlington Burns, among many others.
Despite their diverse backgrounds, they have all found unexpected happiness and fulfillment through giving.
Santi also shares a growing body of scientific evidence that links giving with happiness.
For example:Research shows that altruism involves far more than suppressing basic selfish urges; rather, we are wired to give, as it activates pleasure centers in the brain. Several studies demonstrate that those who volunteer regularly and frequently live longer than non-volunteers. People who give to charity are 43 percent more likely to say they're very happy than those who don't give. Amid a culture of materialism and self-centeredness, Santi shows how giving can assuage ennui, give us purpose, and contribute to happiness in the deepest ways.
Free Home Delivery
on all orders
Pick up orders
from local bookshops