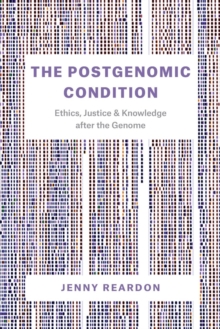 The Postgenomic Condition : Ethics, Justice, and Knowledge After the Genome
Paperback / softback
Description
While the sequencing of the human genome was a landmark achievement, the availability and manipulation of such a vast amount of data about our species has inevitably led to questions that are increasingly fundamental and urgent: now that information about human bodies can be transformed into a natural resource, how will and should we interpret and use it?
With The Postgenomic Condition, Jenny Reardon draws on more than a decade of research in molecular biology labs, commercial startups, governmental agencies and civic spaces to examine the extensive efforts after the completion of the Human Genome Project to transform genomics from high tech informatics practiced by a few well-financed scientists and engineers to meaningful knowledge beneficial to all people.
Through her in-depth profiles of genomic initiatives around the world, we see hopes to forge public knowledge and goods from blood and DNA meet the reality of limited resources and conflicting values. Building the argument around the limits of liberal concepts of openness, information, inclusion, privacy, property and the public concepts that proved salient at different points in the unfolding story of efforts to make sense of human genomes Reardon shows how genomics challenges us to move beyond existing liberal frameworks to ask deeper questions of knowledge and justice.
While the news media is filled with grand visions of future designer drugs and babies, The Postgenomic Condition brings richly into view these hard on-the-ground questions about what can be known and who and how we will live on a depleted but data-rich, interconnected yet fractured planet, where technoscience garners disproportionate resources.
Information
Format: Paperback / softback
Pages: 304 pages, 19 halftones
Publisher: The University of Chicago Press
Publication Date: 19/01/2018
Category: Genetics (non-medical)
ISBN: 9780226510453
Also by Jenny Reardon