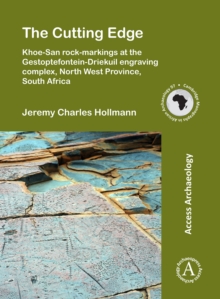 The Cutting Edge: Khoe-San rock-markings at the Gestoptefontein-Driekuil engraving complex, North West Province, South Africa
Paperback / softback
Description
This book addresses the rock engravings on the wonderstone hills just outside Ottosdal, North West province, South Africa.
Wonderstone is remarkable rock that is smooth, shiny and very easy to mark.
The wonderstone occurs only on two adjacent farms, Gestoptefontein and Driekuil, and thus the rock art on the wonderstone outcrops is referred to as the Gestoptefontein- Driekuil complex (GDC).
This rock art is now the only remaining trace of what must once have been a much larger complex of engravings.
Sadly, much of the rock art has been destroyed in the course of mining activities, with very few records.
The largest remaining outcrop is still threatened by potential mining activities.
The study attempts to bring this disastrous and unacceptable situation to the attention of the public and the heritage authorities, who have so far failed to respond to applications to grant the sites protection.
It therefore has two main aims: to locate and record as much of the rock art as possible and to understand the significance of the outcrops in the lives of the people who made them.
Based on the rock art itself, as well as what little historical evidence is available, it is argued that the rock art was made by Khoe-San people during the performance of important ceremonies and other activities.
The rock art has two main components: engravings of referential motifs and a gestural, or performative, element.
The referential motifs depict a range of things: anthropomorphs and zoomorphs, decorative designs, items of clothing, as well as ornaments and decorations.
The gestural markings were made by rubbing, cutting and hammering the soft wonderstone, probably in the course of a range of activities that people carried out on the outcrops.
Information
Format: Paperback / softback
Pages: 418 pages, Illustrated throughout in colour and black & white
Publisher: Archaeopress
Publication Date: 20/11/2017
Category: African history
ISBN: 9781784917036
Also in the Cambridge Monographs in African Archaeology series | View all