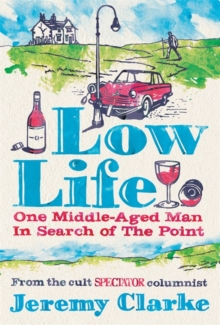 Low Life: One Middle-Aged Man in Search of the Point
Hardback
Description
Two O levels. Three convictions for smash and grab in off licenses.
Two for drunk driving. One for possession of amphetamine sulphate. General labouring and factory work. Attended charismatic Baptist church. Made girlfriend pregnant. Resigned from job as refuse collector, resigned church membership, returned library books, sold house, went to the Democratic Republic of Congo, then known as Zaire. Came back altered. Conscious decision to join bourgeoisie. Night classes for a year in Torquay, then three at School of Oriental and African Studies in London and the Institute of Kiswahili, Zanzibar.
Reviewed book by the late, great Dr Brian Plummer on ferret husbandry for University College London student literary magazine.
Taken on by legendary editor Dr Karl Miller as his latest great white hope . Book deal. Fifty grand advance. Spent advance. Failed to write book. Now, author of the Low Life column in the Spectator. 53 years old and a grandfather. Unmarried. Currently coughing and sneezing in a remote cottage on Dartmoor. Meet Jeremy Clark...
Also by Jeremy Clarke