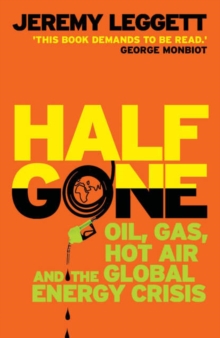 Half Gone : Oil, Gas, Hot Air, and the Global Energy Crisis
Paperback
Description
Exposing the true status of the world's dwindling energy supplies, Jeremy Leggett reveals the scale of the disaster looming over our planet, and the action each and every one of us must take - right now - to stand a chance of averting it.
Information
Format: Paperback
Pages: 320 pages
Publisher: Granta Books
Publication Date: 01/06/2006
Category: Energy industries & utilities
ISBN: 9781846270055
Free Home Delivery
on all orders
Pick up orders
from local bookshops
Reviews
Showing 1 - 1 of 1 reviews.
Review by if0x
16/06/2015
Half Gone refers to the current/imminent state of the world's oil reserves, but is only half the book's subject. The other half addresses the issue of global warming/climate change, and Leggett's concern over the twin horns of this particular, apparently self-inflicted dilemma is palpable throughout the text.The tale is book-ended by a pseudo-fairy tale called 'The Tale of the Blue Pearl', which is a kind of not-so-subtle, tongue in cheek look at the current state of affairs (the first half), and a, frankly, rather optimistic assessment of where the world might next go as it attempts to tackle both global warming and peak oil in the next couple of decades.To me, this is a fascinating book, tackling as it does two issues that I take great interest in, and presenting them both in a thoroughly engaging, and mercifully-non-US-centric fashion. That said, Leggett's bias as head of a solar energy company does tend to peek through some of the later chapters, where he talks up the technology's potential quite substantially. I rather suspect that the garden in that area isn't quite as rosy as he'd like us to believe.The book is, rather like Mark Lynas' accounts, very much a personal view, and we get the author's recollections of various moments in his life throughout the story, mainly to illustrate certain points. However, whereas I found Lynas' self-promotion in Six Degrees a bit intrusive (and downright dull in a 'look how worthy I am' in High Tide), here Leggett's reflections are of value, partly because as a former geologist/academic, former ecological campaigner and now a businessman trying to lead the solar revolution, he's built up relevant experience to impart.So, yes, I rate this book - it's an excellent read, and captivating, but it's not eye-opening in the way that, say, Michael Klare's Blood and Oil is (Klare's book lays bare the explicit connection between oil and US military/foreign policy in a manner that just left me stunned).