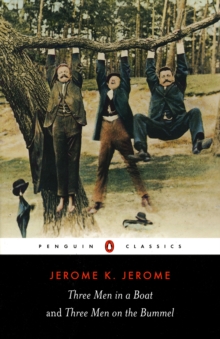 Three Men in a Boat and Three Men on the Bummel
Paperback
Description
Martyrs to hypochondria and general seediness, J. and his friends George and Harris decide that a jaunt up the Thames would suit them to a 'T'.
But when they set off, they can hardly predict the troubles that lie ahead with tow-ropes, unreliable weather-forecasts and tins of pineapple chunks - not to mention the devastation left in the wake of J.'s small fox-terrier Montmorency.
Three Men in a Boat was an instant success when it appeared in 1889, and proved so popular that Jerome reunited his now older - but not necessarily wiser - heroes in Three Men on the Bummel, for a picaresque bicycle tour of Germany.
With their benign escapism, authorial discursions and wonderful evocation of the late-Victorian 'clerking classes', both novels hilariously capture the spirit of their age.
Information
Format: Paperback
Pages: 400 pages
Publisher: Penguin Books Ltd
Publication Date: 25/11/1999
Category: Classic fiction (pre c 1945)
ISBN: 9780140437508
Other Formats
Paperback from £6.15
EPUB from £1.07
PDF from £1.94
Free Home Delivery
on all orders
Pick up orders
from local bookshops
Reviews
Showing 1 - 5 of 5 reviews.
Review by nillacat
16/06/2015
Charming and funny, with occasional lovely passages, some lovely in spite of themselves, since he seems to want to make fun of the romantic streak that is apt to come out in even the most pedestrian people when faced with a pretty vista. And if you are honest with yourself, you will admit the many foibles he pokes fun at in himself.
Review by JimBrewington
16/06/2015
Someone said "possibly the funniest book ever written." It isn't. First published in 1886 - a classic. Tedious, old English humor, ironic.
Review by Smiler69
16/06/2015
In this comic story about three friends on a boating trip up the Thames, Jerome K. Jerome, the narrator and one of the three men in question, weaves in countless anecdotes about his boatmates George and Harris and their various acquaintances, not to mention some very funny details about their misadventures. Apparently, the author had originally intended this book to be a serious travel guide, and while there are some descriptions of the sites and local history along the way, even these passages are usually told with with a good dose of irony, while in some places with quite a lot of lyricism. I found the narrator in this particular recording quite excellent. My only complaint is that I kept wondering why there was not more mention of the dog, and which of his two friends he kept referring to as 'Montmorency' until the very end when I realized they were of course one and the same. Silly me.
Review by figre
16/06/2015
There are words that have fallen out of disfavor. They have taken on the feel of age or mustiness or a sense that what was once a compliment has now turned into something less. One such word is "whimsy". We may get by with occasionally calling something whimsical. But if we say that something has whimsy or is a piece of whimsy, there is a suggestion that we are being somewhat derogatory.There is absolutely nothing wrong with the word. It is a word intended to imply fun and playfulness with a hint of unpredictability. It is a word that speaks of a type of humor that does not take itself too seriously. It is not mean humor; it is humor that is just meant to be enjoyed.A perfectly good word and a word that is definitely complimentary.Upon completing the two books included in this collection, the first word that came to mind was whimsy. In Three Men and a Boat we follow J. and his two friends as they try their best to enjoy a voyage up the Thames. This journey is a story of the many things that go wrong. However, if that were all, then it would be farce and pratfalls. No, it becomes more (hilariously more) because Jerome is able to describe the foibles of the three in a way that is also enlightening about their characters. These are not ciphers just falling in the mud; these are flawed (funny) people falling in the mud.The second book, Three Men on the Bummel, follows the same three friends as they decide to take a bike ride through Germany. The same flaws, foibles, and falls harass the three in a different environment. But this is more than just the same story told in a different location. Jerome is able to bring a new perspective to these individuals while exploring a whole new geographic area. Time has changed the three. But within they are still as hapless as ever. In particular, the attempts to convince their wives (wives which did not exist in the first story) of the importance of the voyage are particular enlightening while being very funny.There is an extra nuance put to these tales because of the historical backdrop – a period that was not historical at the time of the writing. Travels up the Thames were all the rage at the time, but it was also a time that was seeing changes in the landscape and the population. This is evident in the story that is told, and part of the humor comes from those changes – changes that were not always welcome by everyone.Similarly, by the time Bummel was published, bicycles were all the rage and everyone was making similar trips. What becomes strange in this second tale is that we all know what is about to happen in Germany. In fact, changes were in the works, and the world was gearing for war (even if it didn't know it.) Some of the last paragraphs are hard to read because we know where some of this is going to lead.Thinking about it just a touch more, it is interesting that I chose the word whimsy when I am talking about books written in 1889 and 1900. An old word for some old books. And maybe the reason the word "whimsy" has fallen out of fashion is because this type of book has fallen out of fashion. If so, it is indeed a shame. I literally laughed out loud while reading some passages (as always, strange looks from fellow passengers on the plane) and spent most of the time smiling. That is not a bad thing. And if, because of it, I have to defend "whimsy", then so be it. I would suggest you try these books and see if you can't become a fan of whimsy yourself.
Review by norabelle414
16/06/2015
[Three Men in a Boat, To Say Nothing of the Dog!] by [[Jerome K. Jerome]] - J. and his friends Harris and George are bored, and so they decide to go on a boating vacation up the Thames. (With J.'s dog Montmorency.) They have benign but hilarious adventures and also discuss the scenery around them as they travel from London to Oxford, and its importance in English history. J. narrates with many, many tangential anecdotes about this uncle that taught him how best to pack a trunk and that friend who got stuck in the river without a paddle.[Three Men on the Bummel] by [[Jerome K. Jerome]] - 10+ years later, J. and Harris need a break from married life and fatherhood so they recruit George (who is still a bachelor) and the three of them go on another vacation. This time they decide to go on a bicycle trip through the Black Forest. Not a lot of actual bicycling is done, of course, but there is no lack of excuses as to why they need to be driven somewhere instead.These books were so hilarious; I really wish they had been on my radar earlier. The best part of the first book is, of course, the dog (whom J. talks about as if he was a person). There is an unfortunate lack of dog in the second book, but it's hilarious none the less. I enjoyed the copious commentary on Germany and Germans, and felt definite pangs of nostalgia as they traveled through Prague. J. and his friends were part of a whole new class of people at that point in history - the middle class, who had spending money but no pretensions or social obligations. Reading about them having fun (and then three pages about J's uncle trying to hang a picture, and then more about them having fun) is truly delightful.