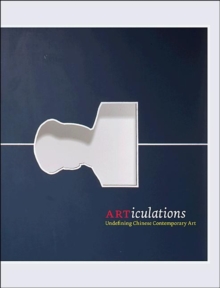 ARTiculations : Undefining Chinese Contemporary Art
Paperback / softback
Description
What does it mean to say that some of the best Chinese contemporary art is made in America, by Americans?
Through words and images, this book challenges the artificial and narrowly conceived definitions of Chinese contemporary art that dominate current discussion, revealing the great diversity of Chinese art today and showing just how complex and uncertain the labels "contemporary," "Chinese," and "American" have become.
This volume features contributions from six artists and eight scholars who participated in a 2009 symposium held in conjunction with the Princeton University Art Museum exhibition Outside In: Chinese ?
American ? Contemporary Art. These ethnically Chinese and non-Chinese artists work or have worked in America--indeed, all of them are U.S. citizens--but they are steeped in Chinese artistic traditions in terms of style, subject matter, and philosophical outlook.
Here they discuss their art and careers with rare depth and candor, addressing diversity, ethnicity, identity, and other issues. The academic contributors bring a variety of perspectives--Chinese and American, art historical and political--to bear on the common, limiting practice of classifying such art and artists as "Chinese," "American," or "Chinese American." Revealing and celebrating the fluidity of who can be considered a Chinese artist and what Chinese art might be, these artists and scholars broaden and enrich our understanding of Chinese contemporary art.
Information
Format:Paperback / softback
Pages:320 pages, 10 color illus. 172 halftones.
Publisher:Princeton University Press
Publication Date:21/11/2010
Category:
ISBN:9780691148601