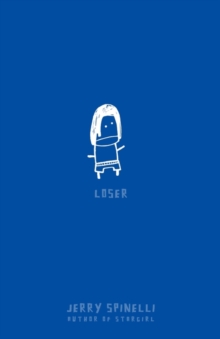 Description
From the author of STARGIRL, a powerful novel of a young boy who is like all kids, yet unlike all kids.
Loser is unique, a one-off, a touching and powerful book about the pull of individuality over the need to fit in...Donald Zinkoff has a problem. And it isn't just his name. Though, having a name beginning with Z does cause him lots of problems, not least making him last to be called for everything.
Donald's main problem is his happiness; his enthusiasm - particularly for school where he arrives early every day.
His happiness leads to laughter - loud laughter. It sometimes gets him into trouble at school. It sometimes gives people the wrong impression. His classmates think he is bonkers, a bit of a problem, a loser.
But Donald is blissfully unaware of this. He thinks when they cheer and jeer him, that they like him.
He thinks when they don't pick him for their team, oh well, maybe tomorrow.
Donald is the eternal optimist - a delight. Throughout his school life there are people that recognize his individuality and admire him; two of his teachers; the old lady he 'delivers' mail too; Claudia, the little girl who lives down the road, always on a harness, in case she runs away; The Waiting Man - still waiting after thirty years for his son to return from Vietnam. And most of all, his parents, and sister, Polly, who love him to bits and will always be there to support him.The novel offers snapshots of Donald's life as he progresses through his first year in school, to his graduation to High School.
It is warm, witty and wonderful and has the reader reaching for a hanky and shouting 'Go, Donald, go!' simultaneously.
With some of his finest writing to date, Jerry Spinelli uses wit and emotion to create this unique novel about a unique person.
As with Stargirl and Wringer, the author writes about the power of individuality over the need to fit in; the importance of attitudes to failure and how any name can ultimately be replaced with 'hero'.
Information
Format: Paperback
Pages: 224 pages
Publisher: HarperCollins Publishers
Publication Date: 28/05/2002
Category: General
ISBN: 9780007143771
Other Formats
eAudiobook MP3 from £12.74
EPUB from £3.49
Free Home Delivery
on all orders
Pick up orders
from local bookshops
Reviews
Showing 1 - 1 of 1 reviews.
Review by hotchk155
16/06/2015
This book follows Donald Zinkoff through primary school (if I am understanding this US grade system properly..) Zinkoff is identified as a loser, but really he is just a clumsy, over-enthusiastic kid whose failing is to always see the best in people. As the school years pass by, he becomes the class loser, the butt of jokes, but the thing about Zinkoff is that he is impervious to it all - he doesn't even notice, he's still seeing the best in everyone. He just stumbles on, being himself right through. Its a sweet and heartwarming book, very funny at times and sad at others (actually never that sad since Zinkoff is always happy - whatever unkindnesses directed at him that he's just failed to notice) Its one of those small books with big print, short sentences and chapters that are just a couple of pages long. So it's a quick read - but that is just about right really - I think any more would be too much. I enjoyed it.