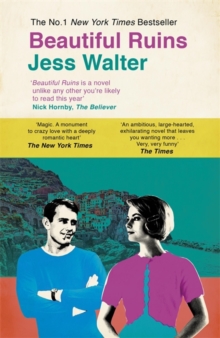 Beautiful Ruins
Paperback
Description
The No. 1 New York Times BestsellerJess Walter's Beautiful Ruins is a gorgeous, glamorous novel set in 1960s Italy and a modern Hollywood studio.The story begins in 1962.
Somewhere on a rocky patch of the sun-drenched Italian coastline a young innkeeper, chest-deep in daydreams, looks out over the incandescent waters of the Ligurian Sea and views an apparition: a beautiful woman, a vision in white, approaching him on a boat.
She is an American starlet, he soon learns, and she is dying.And the story begins again today, half a world away in Hollywood, when an elderly Italian man shows up on a movie studio's back lot searching for the woman he last saw at his hotel fifty years before.Gloriously inventive, funny, tender and constantly surprising, Beautiful Ruins is a novel full of fabulous and yet very flawed people, all of them striving towards another sort of life, a future that is both delightful and yet, tantalizingly, seems just out of reach.'Magic...A monument to crazy love with a deeply romantic heart' New York Times'A novel shot in sparkly Technicolor' Booklist'Hilarious and compelling' Esquire'Beautiful Ruins is a novel unlike any other you're likely to read this year' Nick Hornby, The Believer
Information
Format: Paperback
Pages: 368 pages
Publisher: Penguin Books Ltd
Publication Date: 03/05/2013
ISBN: 9780670922659
Free Home Delivery
on all orders
Pick up orders
from local bookshops
Reviews
Showing 1 - 2 of 2 reviews.
Review by riverwillow
16/06/2015
All I can say is read this, you won't be disappointed as it's a wonderful read.
Review by wandering_star
16/06/2015
The thought of trying to trying to summarise what happens in this book is making me tired. There's a 1960s story, in which a Hollywood fixer has to prevent the pregnancy of a young actress from damaging the publicity around a huge movie. This is interleaved with the modern day stories, where we see what has happened to the actress, her son, her husband, the fixer, his assistant, the assistant's useless boyfriend, a screenwriter pitching a movie to the fixer, the screenwriter's estranged girlfriend, and I think several other people as well.OK, maybe that was a bit negative. In principle I like ambitious story-telling and I have no problem with jumping around between different narratives and timelines. And in some places, this book was excellent. The story could be compelling (especially in the 1960s - the modern-day stuff was a bit too 'messagey'), and I was interested enough to keep picking it up to read more. But oh my goodness, I kept on wishing that the author would just calm down and stop trying to squeeze so much in. As well as the narratives we get a scene from a play, the pitch for a script, a chapter of a novel and another of a memoir... none of which add enough to the story to make them worthwhile. And the writing is just too much. Towards the end of the book I found this passage which encapsulates everything that I found annoying about the book:<i>But aren't all great quests folly? El Dorado and the Fountain of Youth and the search for intelligent life in the cosmos - we know what's out there. It's what <u>isn't</u> that truly compels us. Technology may have shrunk the epic journey to a couple of short car rides and regional jet legs - four states and twelve hundred miles traversed in an afternoon - but true quests aren't measured in time or distance anyway, so much as in hope. There are only two good outcomes for a quest like this, the hope of the serendipitous savant - sail for Asia and stumble on America - and the hope of scarecrows and tin men: that you find out you had the thing you sought all along.</i>The same thoughts in two pithy sentences would have been great. Instead, it's a game of let-me-show-you-how-clever-I-am, chucking in cultural references and ornate wording ('serendipitous savant'!) and shoehorning in a reference to the book's movie theme ('scarecrows and tin men') for good measure.This is not a terrible book, but it could have been so much better.