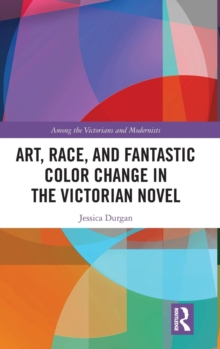 Art, Race, and Fantastic Color Change in the Victorian Novel
Hardback
Description
As a study of color in the Victorian novel, this volume notices and analyzes a peculiar literary phenomenon in which Victorian authors who were also trained as artists dream up fantastically colored characters for their fiction.
These strange and eccentric characters include the purple madwoman Bertha Mason in Charlotte Bronte's Jane Eyre (1847), the blue gentleman Oscar Dubourg from Wilkie Collins's Poor Miss Finch (1872), the red peddler Diggory Venn in Thomas Hardy's The Return of the Native (1878), and the little yellow girls of Arthur Conan Doyle's "The Yellow Face" (1893) and Frances Hodgson Burnett's The Secret Garden (1911).
While color has been historically viewed as suspicious and seductive in Western culture, the Victorian period constitutes a significant moment in the history of color: the rapid development of new color technologies and the upheavals of the first avant-garde art movements result in an increase in coloring's prestige in the art academies.
At the same time, race science appropriates color, using it as a criterion for classification in the establishment of global racial hierarchies.
These artist-authors draw on color's traditional association with constructions of otherness to consider questions of identity and difference through the imaginative possibilities of color.
Other Formats
EPUB from £40.49
PDF from £40.49
Also in the Among the Victorians and Modernists series | View all