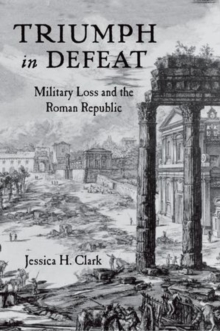 Triumph in Defeat : Military Loss and the Roman Republic
Hardback
Description
Although a great deal of historical work has been done in the past decade on Roman triumphs, defeats and their place in Roman culture have been relatively neglected.
Why should we investigate the defeats of a society that almost never lost a war?
In Triumph in Defeat, Jessica H. Clark answers this question by showing what responses to defeat can tell us about the Roman definition of victory.
First opening with a general discussion of defeat and commemorationat Rome and then following the Second Punic War from its commencement to its afterlife in Roman historical memory through the second century BCE, culminating in the career of Gaius Marius, Clark examines both the successful production of victory narratives within the Senate and the gradual breakdown of thosenarratives.
The result sheds light on the wars of the Republic, the Romans who wrote about these wars, and the ways in which both the events and their telling informed the political landscape of the Roman state.
Triumph in Defeat not only fills a major gap in the study of Roman military, political, and cultural life, but also contributes to a more nuanced picture of Roman society, one that acknowledges the extent to which political discourse shaped Rome's status as a world power. Clark's work shows how defeat shaped the society whose massive reputation was-and still often is-built on its successes.
Information
Format: Hardback
Pages: 272 pages, 4 maps
Publisher: Oxford University Press Inc
Publication Date: 12/06/2014
Category: European history
ISBN: 9780199336548
Free Home Delivery
on all orders
Pick up orders
from local bookshops